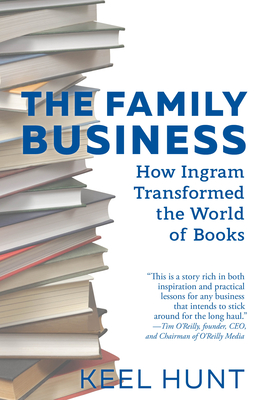 West Margin Press
The Family Business: How Ingram Transformed the World of Books
0

Rate this book

Key Metrics
West Margin Press

Hardcover

9781513267210

8.9 X 6.1 X 1.3 inches

1.1 pounds

Business & Economics > Corporate & Business History - General

English
$0
Estimated Arrival:
Sep 26 -Sep 28
Available Copies:
10+ Copies

Secure Transaction
Book Description
The first book to tell the story of one of the world's most influential media businesses, The Family Business draws on more than 70 interviews with company insiders as well as book-industry luminaries to present the Ingram story and how a little-known Nashville-based company grew to play a pivotal role in transforming book publishing around the world.
The history of the Ingram Content Group is one of the most important and remarkable business stories that almost no one knows. Launched as a favor to a family friend, it started as a local textbook distributor--one tiny division within a thriving corporation focused on oil, construction supplies, and shipping. It grew into the world's largest book wholesaler, then into the most influential and innovative supplier of infrastructure and services to publishers around the world.
Over the past 50 years, from its headquarters in Nashville, Tennessee, Ingram has played a pivotal role in modernizing the book business. Two members of the founding family have led the way: Bronson Ingram, a tough-minded industrialist who instinctively recognized a golden opportunity to apply modern efficiencies to antiquated logistical systems, and Bronson's son John Ingram, an intrapreneur with a keen understanding of both the opportunities and the risks created by the new digital technologies. Led by these two brilliant managers, Ingram has used its unparalleled industry-wide connections to help transform book publishing from a tradition-bound business into a dynamic, global twenty-first century powerhouse.
Now, for the first time, The Family Business captures the whole story. In its pages, readers will learn about:
The introduction of the Ingram microfiche reader in 1972 and how it catapulted book retailing into the electronic era
Ingram's network of coast-to-coast distribution centers turning U.S. book publishing into a truly national business for the first time
Ingram using fast-growing video, software, magazine, and international wholesaling operations to create a phenomenal record of expansion, growing from a million-dollar company into a billion-dollar giant in just two decades
Two of book publishing's most powerful organizations--Ingram and Barnes & Noble--almost coming within a hair's breadth of merging, and how the deal fell apart at the eleventh hour
Ingram's unparalleled ability to rapidly fulfill product orders empowering Amazon's unique customer service model and enabling its explosive growth
Lighting Source, a technological marvel spawned by Ingram, converting the long tail of niche books from a costly headache for publishers and retailers into a steady source of profitable sales
Ingram's transformation of the book supply chain enabling countless booksellers and publishers to survive and even thrive in the disruptive era of Covid-19
Today, with Ingram's expanding portfolio of service and infrastructure businesses playing an ever-growing role in the world of publishing, the company stands ready to help lead the industry into an era of even more dramatic change.
The Family Business is the first book to recount the story of this strategic powerhouse that everyone in the publishing industry does business with, and that practically everyone admires--but that few people really understand. A must-read for people in the book business and the world of media, and anyone else who wants to understand how this vastly influential industry really works, this book fascinates with the story of the ways today's electronic information technologies are transforming the world.
The Family Business: How Ingram Transformed the World of Books
Author Bio
Keel Hunt is a columnist for the USA Today Network in Tennessee. He has been a reporter, editor, Washington correspondent, and editorial writer. From 1979 to 1986 he was Special Assistant to Tennessee Governor Lamar Alexander.
The founder of The Strategy Group, the Nashville public affairs firm whose clients have included HCA, The Frist Foundation, First Tennessee Bank, Vanderbilt University, and Meharry Medical College.
Crossing the Aisle (2018) was a follow up to his debut work of nonfiction, Coup: The Day the Democrats Ousted Their Governor, also published by Vanderbilt University Press in 2013, with an expanded edition in 2017. Keel's latest book The Family Business is a first-ever inside look at how Ingram Book Company became one of the world's leading media businesses that almost no one knows.
He enjoys his family, photography and his blog, the Field Notes. He and his wife Marsha live in Nashville and Sanibel Island, Florida.
Source: keelhunt.com
more