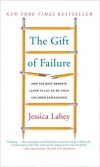 The Gift of Failure: How the Best Parents Learn to Let Go So Their Children Can Succeed
Book Summary
In today's success-focused culture, many parents assume a rather active role in projecting the early success of their children, all too often with devastating consequences.
Jessica Lahey, an educator, speaker and author with a vast experience at both middle and high school level, urges overprotective parents to let children fail and learn from their mistakes. In The Gift of Failure, Lahey argues that parents should rethink their ambition to do everything possible so that their children excel in school assignments, activities or class projects.
In her interview for Readara, Lahey explains how the roles of parents and teachers go beyond teaching how to read, write and do homework. She goes on to remind readers of the importance of responsibility, well-defined autonomy, and the cultivation of preparedness in children for dealing with unpleasant situations and failures. 
Key Topics
How children learn and love to learn?
How parents can step back and embrace their children's failures?
How overparenting may ruin a child's confidence and get in the way of children's education?
When can parents learn to restrain and let their children learn to deal with disappointment and frustrations that life often brings?
How does autonomy benefit children in education?
How and why do children develop friendships and what should parents learn from this process?
What makes involving children with daily responsibilities and household duties so important?
Should parents discuss financial matters with children from an early age?
Other Books by Author