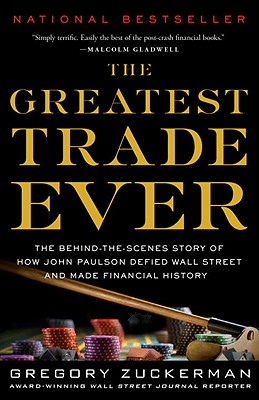 Crown Business
The Greatest Trade Ever: The Behind-The-Scenes Story of How John Paulson Defied Wall Street and Made Financial History
0

Rate this book

Key Metrics
Crown Business

Paperback

9780385529945

7.97 X 5.32 X 0.73 inches

0.55 pounds

Business & Economics > Finance - General

English
$0
Estimated Arrival:
May 23 -May 25
Available Copies:
2 Copies

Secure Transaction
Book Description
In 2006, hedge fund manager John Paulson realized something few others suspected--that the housing market and the value of subprime mortgages were grossly inflated and headed for a major fall. Paulson's background was in mergers and acquisitions, however, and he knew little about real estate or how to wager against housing. He had spent a career as an also-ran on Wall Street. But Paulson was convinced this was his chance to make his mark. He just wasn't sure how to do it. Colleagues at investment banks scoffed at him and investors dismissed him. Even pros skeptical about housing shied away from the complicated derivative investments that Paulson was just learning about. But Paulson and a handful of renegade investors such as Jeffrey Greene and Michael Burry began to bet heavily against risky mortgages and precarious financial companies. Timing is everything, though. Initially, Paulson and the others lost tens of millions of dollars as real estate and stocks continued to soar. Rather than back down, however, Paulson redoubled his bets, putting his hedge fund and his reputation on the line.
In the summer of 2007, the markets began to implode, bringing Paulson early profits, but also sparking efforts to rescue real estate and derail him. By year's end, though, John Paulson had pulled off the greatest trade in financial history, earning more than $15 billion for his firm--a figure that dwarfed George Soros's billion-dollar currency trade in 1992. Paulson made billions more in 2008 by transforming his gutsy move. Some of the underdog investors who attempted the daring trade also reaped fortunes. But others who got the timing wrong met devastating failure, discovering that being early and right wasn't nearly enough.
Written by the prizewinning reporter who broke the story in The Wall Street Journal, The Greatest Trade Ever is a superbly written, fast-paced, behind-the-scenes narrative of how a contrarian foresaw an escalating financial crisis--that outwitted Chuck Prince, Stanley O'Neal, Richard Fuld, and Wall Street's titans--to make financial history.
The Greatest Trade Ever: The Behind-The-Scenes Story of How John Paulson Defied Wall Street and Made Financial History
Author Bio
Gregory Zuckerman is a Special Writer at The Wall Street Journal, ?a 20-year veteran of the paper and a three-time winner of the Gerald Loeb award — the highest honor in business journalism.
Greg is the author of "The Frackers: The Outrageous Inside Story of the New Billionaire Wildcatters," a national bestseller published October 2014 by Portfolio/Penguin Press. The book describes how several unlikely individuals created an American energy renaissance that brought OPEC to its knees. The Frackers was named among the best books of 2014 by The Financial Times and Forbes Magazine and book of the year by the New York Financial Writers Association.
Greg also wrote "The Greatest Trade Ever: The Behind-the-Scenes Story of How John Paulson Defied Wall Street and Made Financial History," a New York Times and Wall Street Journal best seller published December 2010 by Crown Business/Random House. The book has been translated into 10 languages.
Greg and his two sons wrote Rising Above: How 11 Athletes Overcame Challenges in their Youth to Become Stars," a book for young readers and adults published May 2016 by Philomel/Penguin that describes the remarkable stories of how stars in various sports overcame imposing setbacks in their youth. The book was chosen by Scholastic Teacher magazine as a top pick for 2016 and a top 2017 recommendation of the Texas Library Association. In February 2018, Rising Above-Inspiring Women in Sports, also written by Greg and his sons, will be published.
At the Journal, Greg writes about big financial firms, personalities and trades, hedge funds, the energy revolution and other investing and business topics. Previously, Greg was the lead writer of the widely read "Heard on the Street" column and covered the credit markets, among other beats.
In 2015, Greg won the Loeb Award for a series of stories revealing discord between Bill Gross, founder of bond powerhouse Pimco, and others at the firm, including Mohamed El-Erian. The stories led to Mr. Gross's surprise departure from Pimco. In 2012, Greg broke news about huge, disastrous trades by the J.P. Morgan trader nicknamed the "London Whale."
In 2007, Greg was part of a team that won the Gerald Loeb award for breaking news coverage of the collapse of hedge fund Amaranth Advisors and in 2003 he won the Loeb award for breaking news coverage of the demise of telecom provider WorldCom. Greg was part of a team that won the New York Press Club Journalism award in 2008. He was a finalist for the 2011 Gerald Loeb award for investigative news coverage of the insider trading scandal and a finalist for the 2008 Gerald Loeb award for coverage of the mortgage meltdown.
Greg appears regularly on CNBC, Fox Business, Yahoo Finance, Bloomberg Television and various television networks. He makes regular appearances on National Public Radio, BBC, ABC Radio, Bloomberg Radio and radio stations around the globe.
Greg gives speeches to business groups on a variety of topics. Over the past year, he has spoken to groups in New York, Los Angeles, San Francisco, Houston, Dallas, Las Vegas, Phoenix, Calgary, Montreal and Niagara Falls.
Greg joined the Journal in 1996 after writing about media companies for the New York Post. Previously, he was the managing editor of Mergers & Acquisitions Report, a newsletter published by Investment Dealers' Digest. He graduated from Brandeis University in 1988, Magna Cum Laude.
A graduate of Brandeis University, Greg lives with his wife and two sons in West Orange, N.J., where they enjoy the Yankees in the summer, root for the Giants in the fall, and reminisce about Linsanity in the winter.
Photograph of Gregory Zuckerman by Josh Kuchinsky.
Source: gregoryzuckerman.com
more