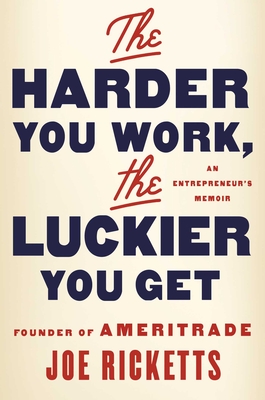 Simon & Schuster
The Harder You Work, the Luckier You Get: An Entrepreneur's Memoir
0

Rate this book

Key Metrics
Simon & Schuster

Hardcover

9781501164781

9.3 X 6.3 X 1.1 inches

1.1 pounds

Business & Economics > Investments & Securities - Stocks

English
$0
Available Copies:
0 Copies

Secure Transaction
Book Description
Joe Ricketts, founder of TD Ameritrade, shares the epic inside story of how a working-class kid from the Nebraska prairie took on Wall Street's clubby brokerage business, busted it open, and walked away a billionaire.
Joe Ricketts always had the gift of seeing what others missed. The son of a house builder, he started life as a part-time janitor, but by the age of thirty-three he saw the chance to challenge the big brokerage firms by offering Americans an inexpensive way to take control of their own stock trading. Nowadays, we take for granted that Main Street is playing right there on Wall Street, but Ricketts made that happen. His company, begun with $12,500 borrowed from friends and family, took off like a rocket thanks to an early embrace of digital technology and irreverent marketing. But Ameritrade also faced a series of near-disasters: the SEC almost shut him down; his partners tried to force him out because of his relentless risk-taking; penny brokers swindled the company; the crash of 1989 nearly cost him everything; and he was almost shut down again when a customer committed massive fraud. By the time of the dot-com bust, he had proven that his strategy based on frontier values could survive just about anything.
The Harder You Work, The Luckier You Get offers a view inside Joe Ricketts' mind, giving readers a visceral understanding of how entrepreneurs think and act differently from the rest of us--how they see the horizon where we just see a spreadsheet. As unvarnished as the prairie he comes from, Ricketts also talks honestly about his shortcomings as a manager, the career sacrifices his wife made for his business, the complexity of being a father, and the pain of splitting with his mentor and of his brother's death from AIDS. Overcoming these and other challenges, he built a company now worth $30 billion.
A must-read for anyone who's ever dreamed of starting their own business, The Harder You Work, The Luckier You Get is the ultimate only-in-America story.
The Harder You Work, the Luckier You Get: An Entrepreneur's Memoir
Author Bio
A pioneer in the use of technology to revolutionize the financial services sector, Mr. Ricketts founded the company now known as TD Ameritrade, a securities industry leader that empowers self-directed investors with powerful and innovative investment tools and training.
After graduating Creighton University in 1968 with an economics degree, Mr. Ricketts began his professional career first as a branch manager at Dun & Bradstreet, then as a registered representative with Dean Witter.  In 1975, he co-founded First Omaha Securities, a retail securities brokerage firm in Omaha, Nebraska.  Mr. Ricketts recognized that featuring negotiated commissions would allow the firm to take advantage of the newly deregulated discount securities market.  Under Mr. Ricketts' leadership, First Omaha Securities grew quickly and, through the use of innovative technology and marketing, evolved into TD Ameritrade.  Today TD Ameritrade manages hundreds of billions of dollars in client assets and leads its competitors with hundreds of thousands of trades per day.
Since 2008, Mr. Ricketts has devoted himself to a variety of entrepreneurial ventures.  He has also actively engaged in philanthropy through Opportunity Education Foundation, The Cloisters on the Platte Foundation, The Ricketts Conservation Foundation, and The Ricketts Art Foundation.
A native of Nebraska, Mr. Ricketts now lives in Little Jackson Hole, Wyoming. Mr. Ricketts and his wife of more than 50 years have four children and thirteen grandchildren.
Source: joericketts.com
more