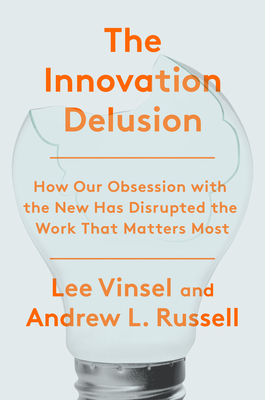 Currency
The Innovation Delusion: How Our Obsession with the New Has Disrupted the Work That Matters Most
0

Rate this book

Key Metrics
Currency

Hardcover

9780525575689

9.3 X 6.3 X 1.1 inches

1.2 pounds

Business & Economics > Economic Conditions

English
$0
Estimated Arrival:
Dec 12 -Dec 14
Available Copies:
1 Copies

Secure Transaction
Book Description
Innovation is the hottest buzzword in business. But what if our obsession with finding the next big thing has distracted us from the work that matters most?
The most important book I've read in a long time . . . It explains so much about what is wrong with our technology, our economy, and the world, and gives a simple recipe for how to fix it: Focus on understanding what it takes for your products and services to last.--Tim O'Reilly, founder of O'Reilly Media

It's hard to avoid innovation these days. Nearly every product gets marketed as being disruptive, whether it's genuinely a new invention or just a new toothbrush. But in this manifesto on thestate of American work, historians of technology Lee Vinsel and Andrew L. Russell argue that our way of thinking about and pursuing innovation has made us poorer, less safe, and--ironically--less innovative.
Drawing on years of original research and reporting, The Innovation Delusion shows how the ideology of change for its own sake has proved a disaster. Corporations have spent millions hiring chief innovation officers while their core businesses tank. Computer science programs have drilled their students on programming and design, even though theoverwhelming majority of jobs are in IT and maintenance. In countless cities, suburban sprawl has left local governments with loads of deferred repairs that they can't afford to fix. And sometimes innovation even kills--like in 2018 when a Miami bridge hailed for its innovative design collapsed onto a highway and killed six people.
In this provocative, deeply researched book, Vinsel and Russell tell the story of how we devalued the work that underpins modern life--and, in doing so, wrecked our economy and public infrastructure while lining the pockets of consultants who combine the ego of Silicon Valley with the worst of Wall Street's greed. The authors offer a compelling plan for how we can shift our focus away from the pursuit of growth at all costs, and back toward neglected activities like maintenance, care, and upkeep.
For anyone concerned by the crumbling state of our roads and bridges or the direction our economy is headed, The Innovation Delusion is a deeply necessary reevaluation of a trend we can still disrupt.
The Innovation Delusion: How Our Obsession with the New Has Disrupted the Work That Matters Most
Author Bio
Lee Vinsel studies human life with technology, with particular focus on the relationship between government, business, and technological change. His first book, Moving Violations: Automobiles, Experts, and Regulations in the United States, was published by Johns Hopkins University Press in July 2019.
Since 2015, with his collaborator Andy Russell, Vinsel has organized and led The Maintainers, a global interdisciplinary research network that examines maintenance, repair, and mundane work with technology.
Vinsel's work has been published in several major history journals and has appeared in or been covered by Aeon, the New York Times, The Atlantic, Guardian, Le Monde, and other popular outlets.
Source: Virginia Tech College of Liberal Arts and Human Sciences 
more