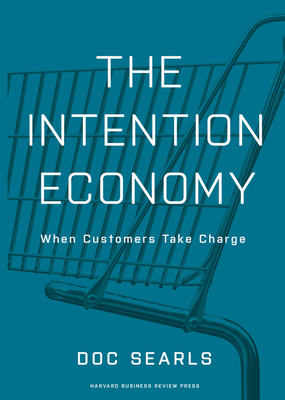 Harvard Business Review Press
The Intention Economy: When Customers Take Charge
0

Rate this book

Key Metrics
Harvard Business Review Press

Hardcover

9781422158524

9.3 X 6 X 1.2 inches

1.14 pounds

Business & Economics > Marketing - General

English
$0
Available Copies:
0 Copies

Secure Transaction
Book Description
Caveat venditor--let the seller beware
While marketers look for more ways to get personal with customers, including new tricks with big data, customers are about to get personal in their own ways, with their own tools. Soon consumers will be able to:
- Control the flow and use of personal data
- Build their own loyalty programs
- Dictate their own terms of service
- Tell whole markets what they want, how they want it, where and when they should be able to get it, and how much it should cost
And they will do all of this outside of any one vendor's silo.
This new landscape we're entering is what Doc Searls calls The Intention Economy--one in which demand will drive supply far more directly, efficiently, and compellingly than ever before. In this book he describes an economy driven by consumer intent, where vendors must respond to the actual intentions of customers instead of vying for the attention of many.
New customer tools will provide the engine, with VRM (Vendor Relationship Management) providing the consumer counterpart to vendors' CRM (Customer Relationship Management) systems. For example, imagine being able to change your address once for every company you deal with, or combining services from multiple companies in real time, in your own ways--all while keeping an auditable accounting of every one of your interactions in the marketplace. These tantalizing possibilities and many others are introduced in this book.
As customers become more independent and powerful, and the Intention Economy emerges, only vendors and organizations that are ready for the change will survive, and thrive. Where do you stand?

The Intention Economy: When Customers Take Charge
Author Bio
Doc Searls served as a Berkman Fellow from 2006 to 2010, during which he launched and led ProjectVRM, which encourages the development of new tools by which individuals create and control their relationships with companies and other organizations. (VRM stands for Vendor Relationship Management, a term coined as a counterpart to CRM, for Customer Relationship Management.)
He is currently working on a book based on VRM development work, titled The Intention Economy: What Happens When Customers Get Real Power (due out in September 2011 from Harvard Business Press). In August 2010 Doc was also named a Key Influencer by CRM Magazine.
While known as one of the pioneers of the blogging movement, Doc is also a veteran journalist who has served for many years as Senior Editor of Linux Journal. He also co-authored (with fellow Berkman veteran David Weinberger and two others) The Cluetrain Manifesto, a 2000 bestseller that remains one of the most widely cited works of the Internet age. In 2005 Doc received the Google-O'Reilly Open Source Award for Best Communicator. In "The World is Flat," Thomas L. Friedman calls Doc "one of the most respected technology writers in America."
Doc remains active in Berkman events, and continues to split his time between Cambridge and his home in Santa Barbara, California, where he serves as a fellow with the Center for Information Technology and Society at UCSB.
Source: The Berkman Klein Center for Internet & Society at Harvard University
more
Videos