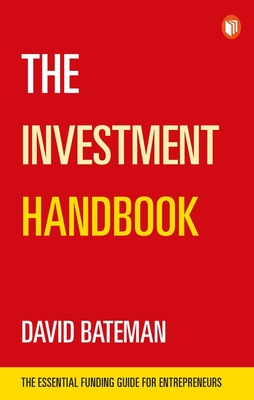 Legend Business
The Investment Handbook: A One-Stop Guide to Investment, Capital and Business: The Essential Funding Guide for Entrepreneurs
0

Rate this book

Key Metrics
Legend Business

Paperback

9781787197909

8.1 X 5.8 X 0.7 inches

0.6 pounds

Business & Economics > Investments & Securities - General

English
$0
Available Copies:
0 Copies

Secure Transaction
Book Description
The all-you-need-to-know guide to Investment. The yearbook is packed with practical guidance on who to contact and how to get investment.
The Investors Handbook is a comprehensive directory of venture capital firms, start-up investors and angel networks. Essential for any individual or business looking for investment, it will help entrepreneurs and business owners navigate the often complex world of sourcing finance.
One of the main reasons start-ups fail is a lack of access to capital or accessing capital at the wrong time. Whatever stage a business is at, this book will help entrepreneurs and business owners understand and source in areas such as:
Directory of investors
When to fundraise
How to meet investors
Best people to connect and network with
Pitching your ideas
After and beyond investment
A must-read book with contributions from investment experts David Bateman, Eileen Modral and Jonathan Reuvid.
David Bateman, is a successful entrepreneur and has founded several businesses. He is an active investor and has spoken at many leading events and at university business schools including Oxford, Cambridge, Harvard, MIT, Wharton and Columbia.
Eileen Modral, is an Investment Network Manager at Oxford Investment Opportunity Network (OION), one of the UK's most well-known and established angel networks.
Jonathan Reuvid was formerly an economist for French oil company Total, and later an entrepreneur. He is a published author of a range of business titles, and was writer and editor for of 'Managing Business Risk', and 'The Investors Guide to the United Kingdom'.
The Investment Handbook: A One-Stop Guide to Investment, Capital and Business: The Essential Funding Guide for Entrepreneurs
Author Bio
David Bateman is an Associate Professor of Government. His research focuses broadly on democratic institutions, including legislatures and political rights, and as well as on ideas and ideologies of democracy, race, and racism. He has published articles in Studies in American Political Development, the American Journal of Political Science, Public Choice, Perspectives on Politics, and The Forum. 
His co-authored book, Southern Nation: Congress and White Supremacy after Reconstruction, examines the role of southern members of Congress in shaping national policy from the end of Reconstruction until the New Deal. His second book, Disenfranchising Democracy: Constructing the Electorate in the United States, the United Kingdom, and France, examines the concurrent expansion of political rights alongside mass disenfranchisement in these three countries. He is currently researching Black political and labor organizing in the early 20th century and its impact on US state-building and ideologies.
Source: Cornell University 
more
Videos