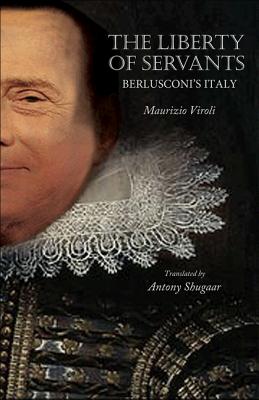 Princeton University Press
The Liberty of Servants: Berlusconi's Italy
0

Rate this book

Key Metrics
Princeton University Press

Hardcover

9780691151823

8.5 X 5.7 X 1 inches

0.8 pounds

Political Science > World - General

English
$0
Available Copies:
0 Copies

Secure Transaction
Book Description
A compelling look at how a people can be unfree even though they are not oppressed
Italy is a country of free political institutions, yet it has become a nation of servile courtesans, with Silvio Berlusconi as their prince. This is the controversial argument that Italian political philosopher and noted Machiavelli biographer Maurizio Viroli puts forward in The Liberty of Servants. Drawing upon the classical republican conception of liberty, Viroli shows that a people can be unfree even though they are not oppressed. This condition of unfreedom arises as a consequence of being subject to the arbitrary or enormous power of men like Berlusconi, who presides over Italy with his control of government and the media, immense wealth, and infamous lack of self-restraint.
Challenging our most cherished notions about liberty, Viroli argues that even if a power like Berlusconi's has been established in the most legitimate manner and people are not denied their basic rights, the mere existence of such power makes those subject to it unfree. Most Italians, following the lead of their elites, lack the minimal moral qualities of free people, such as respect for the Constitution, the willingness to obey laws, and the readiness to discharge civic duties. As Viroli demonstrates, they exhibit instead the characteristics of servility, including flattery, blind devotion to powerful men, an inclination to lie, obsession with appearances, imitation, buffoonery, acquiescence, and docility. Accompanying these traits is a marked arrogance that is apparent among not only politicians but also ordinary citizens.
The Liberty of Servants: Berlusconi's Italy
Author Bio
Maurizio Viroli is Professor Emeritus of Politics at Princeton University, Professor of Government at the University of Texas (Austin) and Professor of Political Communication at the University of Italian Switzerland (Lugano).
He has served as an advisor on cultural activities to the President of the Italian Republic during the presidency of Carlo Azeglio Ciampi (1999-2006), and has worked for the President of the Camera dei Deputati during the presidency of Luciano Violante (1996-2001). He has served as the coordinator of the National Committee for the Improvement of the Republican Culture within the Ministry of Home Affairs. He has been consultant of ANCI (National Association of Italian Municipalities). On May 30, 2001, he was appointed Ufficiale dell'Ordine al Merito of the Italian Republic.
He holds a degree in Philosophy from the University of Bologna and a PhD in Political and Social Sciences from the European University Institute of Firenze. He has taught and conducted research at the universities of Cambridge (Clare Hall), Georgetown (Washington, D.C.), the United Arab Emirates, Trento, Campobasso, Ferrara, the Institute for Advanced Study of Princeton, the Scuola Normale Superiore of Pisa, the European University Institute of Firenze (Jean Monnet Fellow), the Collegio of Milano and the Scuola Superiore di Amministrazione dell'Interno. He has promoted and directed several projects on civic education in Italian schools. In particular, he has founded and is now the Director of a Master's program in Civic Education established at Asti by Ethica Association.
His main fields of research are political theory and the history of political thought, classical republicanism and neo-republicanism, with a special expertise on Niccolò Machiavelli and Jean Jacques Rousseau, republican iconography, the relationship between religion and politics, patriotism, constitutionalism, classical rhetoric, political communication, citizenship, and civic education
Among his publications, Jean Jacques Rousseau and the "Well-Ordered Society", Cambridge University Press, 1988; From Politics to Reason of State. The Acquisition and Transformation of the Language of Politics (1250-1600), Cambridge University Press, 1992; For Love of Country: An Essay on Patriotism and Nationalism, Oxford University Press, 1995; Machiavelli, Oxford University Press, 1998; Niccolò's Smile, Farrar Straus and Giroux, 1998; Republicanism, Farrar Straus and Giroux, 1999; The Idea of the Republic, with Norberto Bobbio, Polity Press, 2003; How to read Machiavelli, Granta, 2008; Machiavelli's God, Princeton University Press, 2010; The Liberty of the Servants, Princeton University Press, 2011; As if God Existed. Religion and Liberty in the History of Italy, Princeton University press, 2012; Redeeming the "Prince". The Meaning of Machiavelli's Masterpiece, Princeton University Press, 2013. With Gisela Bock and Quentin Skinner he is the editor of Machiavelli and Republicanism, Cambridge University Press, 1990. 
He has edited and written the Introduction of Niccolò Machiavelli, The Prince, translation by Peter Bondanella, Oxford University Press, 2005.
Source: Princeton University 
more
Videos