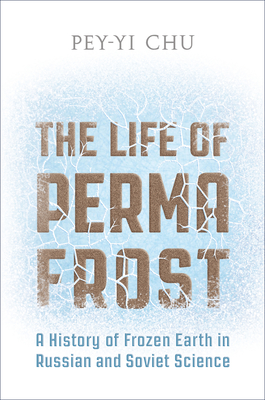 University of Toronto Press
Life of Permafrost: A History of Frozen Earth in Russian and Soviet Science
0

Rate this book

Key Metrics
University of Toronto Press

Hardcover

9781487501938

9.2 X 6.3 X 0.9 inches

1.2 pounds

History > Russia & the Former Soviet Union

English
$0
Available Copies:
0 Copies

Secure Transaction
Book Description
In the Anthropocene, the thawing of frozen earth due to global warming has drawn worldwide attention to permafrost. Contemporary scientists define permafrost as ground that maintains a negative temperature for at least two years. But where did this particular conception of permafrost originate, and what alternatives existed?
The Life of Permafrost provides an intellectual history of permafrost, placing the phenomenon squarely in the political, social, and material context of Russian and Soviet science. Pey-Yi Chu shows that understandings of frozen earth were shaped by two key experiences in the Russian Empire and the Soviet Union. On one hand, the colonization and industrialization of Siberia nourished an engineering perspective on frozen earth that viewed the phenomenon as an aggregate physical structure: ground. On the other, a Russian and Soviet tradition of systems thinking encouraged approaching frozen earth as a process, condition, and space tied to planetary exchanges of energy and matter. Aided by the US militarization of the Arctic during the Cold War, the engineering view of frozen earth as an obstacle to construction became dominant. The Life of Permafrost tells the fascinating story of how permafrost came to acquire life as Russian and Soviet scientists studied, named, and defined it.
Life of Permafrost: A History of Frozen Earth in Russian and Soviet Science
Author Bio
Pey-Yi Chu teaches courses on modern European history, environmental history and the history of science. A historian of Russia and the Soviet Union, she is interested in how ideas about nature have been shaped by culture, politics, economic practices and physical environments. 
Her first book, The Life of Permafrost: A History of Frozen Earth in Russian and Soviet Science (University of Toronto Press, 2020) tells the history of permafrost as a scientific idea in order to uncover its multiple, contested meanings. By tracing the English word permafrost back to its Russian roots, The Life of Permafrost reveals the political and cultural contexts for investigating frozen earth and demonstrates the contributions of Russian and Soviet science to contemporary global understandings of the environment. 
Pey-Yi Chu's current project explores how indigenous knowledges in Siberia shaped Russian and Soviet earth sciences.
Source: Pomona College 
more
Videos