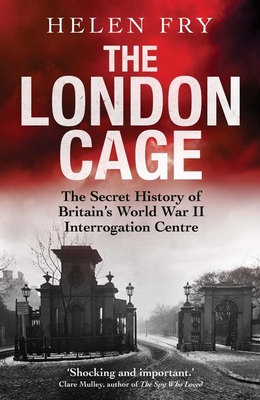 Helen Fry

Yale University Press
The London Cage: The Secret History of Britain's World War II Interrogation Centre
0

Rate this book

Key Metrics
Helen Fry

Yale University Press

Paperback

9780300238655

7.7 X 5.1 X 0.9 inches

0.7 pounds

History > Military - World War II

English
$0
Available Copies:
0 Copies

Secure Transaction
Book Description
The first complete account of the fiercely guarded secrets of London's clandestine interrogation center, operated by the British Secret Service from 1940 to 1948 Behind the locked doors of three mansions in London's exclusive Kensington Palace Gardens neighborhood, the British Secret Service established a highly secret prison in 1940: the London Cage. Here recalcitrant German prisoners of war were subjected to special intelligence treatment. The stakes were high: the war's outcome could hinge on obtaining information German prisoners were determined to withhold. After the war, high-ranking Nazi war criminals were housed in the Cage, revamped as an important center for investigating German war crimes. This riveting book reveals the full details of operations at the London Cage and subsequent efforts to hide them. Helen Fry's extraordinary original research uncovers the grim picture of prisoners' daily lives and of systemic Soviet-style mistreatment. The author also provides sensational evidence to counter official denials concerning the use of truth drugs and enhanced interrogation techniques. Bringing dark secrets to light, this groundbreaking book at last provides an objective and complete history of the London Cage.
The London Cage: The Secret History of Britain's World War II Interrogation Centre
Author Bio
Welcome to the official site of historian Dr Helen Fry.
Helen has written and edited over 25 books. Her works cover the social history of the Second World War: including British Intelligence and the secret war; spies and espionage; and MI9 escape and evasion.
She is the leading expert on the 'secret listeners' at special eavesdropping sites by British intelligence in WWII. She has been at the forefront of widespread media coverage and in-depth research of the greatest intelligence deception of the war: the bugging of Hitler's generals at Trent Park in North London, and thousands of prisoners of war at Latimer House and Wilton Park in Buckinghamshire.
Helen is recognized as the official biographer of MI6 spymaster, Colonel Thomas Joseph Kendrick.
She has also written extensively about the 10,000 Germans who fought for Britain in WWII.
Because of her expertise, she has been involved in a number of documentaries – including David Jason's Secret Service for Channel 5 and Spying on Hitler's Army for Channel 4. She has conducted advisory work for TV and drama; something which she particularly enjoys, and has covered the major D-Day commemorations in live BBC broadcasts in Normandy. She appears regularly in media interviews and podcasts.
Helen is an ambassador for the Museum of Military Intelligence, a trustee of the Medmenham Collection, and President of The Friends of the National Archives. She works in London.
Source: helen-fry.com