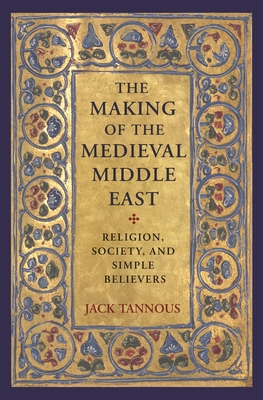 Jack Tannous

Princeton University Press
The Making of the Medieval Middle East: Religion, Society, and Simple Believers
0

Rate this book

Key Metrics
Jack Tannous

Princeton University Press

Paperback

9780691203157

9 X 6.1 X 1.7 inches

2.25 pounds

Religion > Christianity - History

English
$0
Estimated Arrival:
Sep 27 -Sep 29
Available Copies:
10+ Copies

Secure Transaction
Book Description
A bold new religious history of the late antique and medieval Middle East that places ordinary Christians at the center of the story
In the second half of the first millennium CE, the Christian Middle East fractured irreparably into competing churches and Arabs conquered the region, setting in motion a process that would lead to its eventual conversion to Islam. Jack Tannous argues that key to understanding these dramatic religious transformations are ordinary religious believers, often called the simple in late antique and medieval sources. Largely agrarian and illiterate, these Christians outnumbered Muslims well into the era of the Crusades, and yet they have typically been invisible in our understanding of the Middle East's history. What did it mean for Christian communities to break apart over theological disagreements that most people could not understand? How does our view of the rise of Islam change if we take seriously the fact that Muslims remained a demographic minority for much of the Middle Ages? In addressing these and other questions, Tannous provides a sweeping reinterpretation of the religious history of the medieval Middle East. This provocative book draws on a wealth of Greek, Syriac, and Arabic sources to recast these conquered lands as largely Christian ones whose growing Muslim populations are properly understood as converting away from and in competition with the non-Muslim communities around them.
The Making of the Medieval Middle East: Religion, Society, and Simple Believers
Author Bio
I am interested in the cultural history of the eastern Mediterranean, especially the Middle East, in the Late Antique and early medieval period. My research focuses on the Syriac-speaking Christian communities of the Near East in this period, but I am interested in a number of other, related areas, including Eastern Christian Studies more broadly, Patristics/early Christian studies, Greco-Syriac and Greco-Arabic translation, Christian-Muslim interactions, sectarianism and identity, early Islamic history, the history of the Arabic Bible, and the Quran. I am also interested in manuscripts and the editing of Syriac and Arabic (especially Christian Arabic) texts.
I am working on a book entitled Lovers of Labor at the End of the Ancient World: Syriac Scholars Between Byzantium and Islam. I have edited and translated the Syriac letters of George, Bishop of the Arab Tribes (d. 724) as well as the Karshuni life of Theodota of Amid (d. 698). I have also translated the Syriac life of Simeon of the Olives (d. 734). These latter two are to eventually be published in collaboration with Andrew Palmer.
With Scott Johnson, I created and maintain the site syri.ac(link is external), an online resource for Syriac studies, originally hosted at Dumbarton Oaks and now at the University of Oklahoma.
Education

Ph.D., Princeton University
M.Phil., Oxford
B.A., University of Texas, Austin
Source: Princeton University Department of History