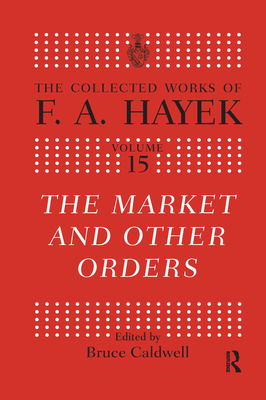 Routledge
The Market and Other Orders
0

Rate this book

Key Metrics
Routledge

Paperback

9780367669508

-

-

Business & Economics > Economic History

English
$0
Available Copies:
0 Copies

Secure Transaction
Book Description
In addition to his groundbreaking contributions to pure economic theory, F. A. Hayek also closely examined the ways in which the knowledge of many individual market participants could culminate in an overall order of economic activity. His attempts to come to terms with the knowledge problem thread through his career and comprise the writings collected in the fifteenth volume of Routledge's Collected Works of F. A. Hayek series.

The Market and Other Orders brings together more than twenty works spanning almost forty years that consider this question. Consisting of speeches, essays, and lectures, including Hayek's 1974 Nobel lecture, The Pretense of Knowledge, the works in this volume draw on a broad range of perspectives, including the philosophy of science, the physiology of the brain, legal theory, and political philosophy. Taking readers from Hayek's early development of the idea of spontaneous order in economics through his integration of this insight into political theory and other disciplines, the book culminates with Hayek's integration of his work on these topics into an overarching social theory that accounts for spontaneous order in the variety of complex systems that Hayek studied throughout his career.

Edited by renowned Hayek scholar Bruce Caldwell, who also contributes a masterly introduction that provides biographical and historical context, The Market and Other Orders forms the definitive compilation of Hayek's work on spontaneous order.

The Market and Other Orders
Author Bio
Professor Caldwell's research focuses on the history of economic thought, with a specific interest in the life and works of the Nobel Laureate economist and social theorist F. A. Hayek. 
He is the author of Hayek's Challenge: An Intellectual Biography of F. A. Hayek  (2004) and since 2002 has served as the general editor of the book series The Collected Works of F.A. Hayek . The first volume with co-author Hansjoerg Klausinger of his full biography of Hayek is expected in 2021. 
In 2019-2020 he was a Distinguished Visiting Fellow at the Hoover Institution at Stanford University. He has held research fellowships at NYU, the LSE, and Cambridge University. At Duke he is the Director of the Center for the History of Political Economy, a center whose purpose is to promote research in, and the teaching of, the history of economic thought.  
The Center has received grants from a variety of sources, among them the National Endowment for the Humanities (2010, 2013, 2016), the John W. Pope Foundation (2008-present), the Institute for New Economic Thinking (2011-2013), the Thomas W. Smith Foundation (2011-17), and the Charles Koch Foundation (2018-present).
Source: Duke University 
more