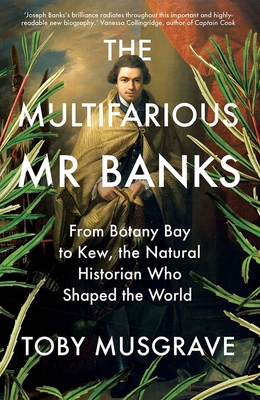 Yale University Press
The Multifarious Mr. Banks: From Botany Bay to Kew, the Natural Historian Who Shaped the World
0

Rate this book

Key Metrics
Yale University Press

Paperback

9780300259209

-

-

Biography & Autobiography > Science & Technology

English
$0
Available Copies:
0 Copies

Secure Transaction
Book Description
A fascinating life of Sir Joseph Banks which restores him to his proper place in history as a leading scientific figure of the English Enlightenment
An extensive, admiring account of his subject's circuitous route to fame and power.--Wall Street Journal
Readers interested in the British Enlightenment, the history of science, or the lives of great figures who played leading roles in England's emergence as a global presence will enjoy this highly informative book.--Choice
As official botanist on James Cook's first circumnavigation, the longest-serving president of the Royal Society, advisor to King George III, the father of Australia, and the man who established Kew as the world's leading botanical garden, Sir Joseph Banks was integral to the English Enlightenment. Yet he has not received the recognition that his multifarious achievements deserve.
In this engaging account, Toby Musgrave reveals the true extent of Banks's contributions to science and Britain. From an early age Banks pursued his passion for natural history through study and extensive travel, most famously on the HMS Endeavour. He went on to become a pivotal figure in the advancement of British scientific, economic, and colonial interests. With his enquiring, enterprising mind and extensive network of correspondents, Banks's reputation and influence were global. Drawing widely on Banks's writings, Musgrave sheds light on Banks's profound impact on British science and empire in an age of rapid advancement.
The Multifarious Mr. Banks: From Botany Bay to Kew, the Natural Historian Who Shaped the World
Author Bio
Dr. Toby Musgrave is a plants and gardens historian, independent scholar, and consultant. He is the author or coauthor of eighteen books, including The Plant Hunters, An Empire of Plants, The Head Gardeners, Paradise Gardens, Heritage Fruits and Vegetables and The Garden.
Education
B.Sc. in Horticulture
Ph.D. in Garden History (thesis: Innovation and the Evolution of the British Garden, 1919-39)
Author & Photographer 
Paradise Gardens (2015), Heritage Fruits & Vegetables (2012), The Head Gardeners (2007), Fra Vildnis til Paradis (2007), The Seven Deadly Sins of Gardening (2006), Cottage Gardens (2004), Courtyard Gardens (2000), Empire of Plants (2000), The Plant Hunters (1998).
Major contributor to: The Gardener's Garden (Consultant Editor), The Contemporary Garden (2009), The English Garden (2008), 1001 Gardens to Visit Before you Die (2007), The Garden Book (2000).
Author of the horticultural content for the Educational Television Award-winning and BAFTA-nominated How to be a Gardener website (BBC, 2001).   
Author of over 100 articles published in diverse British and Danish periodicals and 500 newspaper articles in Britain and Denmark.
Many articles and his book Fra Vildnis are illustrated with Toby's photographs
Source: Yale University Press and tobymusgrave.com
more
Videos