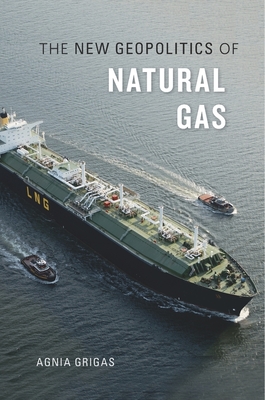 Harvard University Press
The New Geopolitics of Natural Gas
0

Rate this book

Key Metrics
Harvard University Press

Hardcover

9780674971837

8.4 X 5.6 X 1.4 inches

1.4 pounds

Political Science > International Relations - General

English
$0
Available Copies:
0 Copies

Secure Transaction
Book Description
We are in the midst of an energy revolution, led by the United States. As the world's greatest producer of natural gas moves aggressively to expand its exports of liquefied natural gas (LNG), America stands poised to become an energy superpower--an unanticipated development with far-reaching implications for the international order. Agnia Grigas drills deep into today's gas markets to uncover the forces and trends transforming the geopolitics of gas.
The boom in shale gas production in the United States, the growth of global LNG trade, and the buildup of gas transport infrastructure worldwide have so transformed the traditional markets that natural gas appears to be on the verge of becoming a true global commodity. Traditional suppliers like Russia, whose energy-poor neighbors were dependent upon its gas exports and pipelines, are feeling the foundations of the old order shifting beneath their feet. Grigas examines how this new reality is rewriting the conventional rules of intercontinental gas trade and realigning strategic relations among the United States, the European Union, Russia, China, and beyond.
In the near term, Moscow's political influence will erode as the Russian gas giant Gazprom loses share in its traditional markets while its efforts to pivot eastward to meet China's voracious energy needs will largely depend on Beijing's terms. In this new geopolitics of gas, the United States will enjoy opportunities but also face challenges in leveraging its newfound energy clout to reshape relations with both European states and rising Asian powers.
The New Geopolitics of Natural Gas
Author Bio
Dr. Agnia Grigas is a nonresident senior fellow at the Atlantic Council working on energy and geopolitical economy. She is the author of three acclaimed books: "The New Geopolitics of Natural Gas" (Harvard University Press, 2017), "Beyond Crimea: The New Russian Empire" (Yale University Press, 2016) and "The Politics of Energy and Memory between the Baltic States and Russia" (Routlege 2013, 2016).
She is also an associate with the Argonne National Laboratories, and an advisory board member for educational institutions and energy companies such as the McKinnon Center for Global Affairs at Occidental College, the Vilnius Institute for Policy Analysis, LITGAS, and others. She has testified for the Senate Committee on Energy and Natural Resources on American LNG exports to Europe.
Agnia has fifteen years of experience in business development and strategic advisory for multinational corporations and US government institutions on growth opportunities and political risks to execute global business development goals. Previously she was an energy and FDI advisor to the Lithuanian Ministry of Foreign Affairs. She started her career as a financial analyst at JPMorgan and subsequently advised on emerging markets for Eurasia Group, Barclays Bank, and other Fortune 100 companies.
Dr. Grigas is an in-demand keynote speaker and a frequent media contributor, regularly appearing in WSJ, NYT, CNN, Forbes, Newsweek, Bloomberg, Reuters, and Foreign Affairs.
Agnia holds a master's and doctorate in International Relations from the University of Oxford and a bachelor of arts in Economics and Political Science from Columbia University. 
Source: Atlantic Council 
more