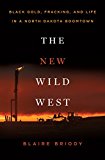 The New Wild West: Black Gold, Fracking, and Life in a North Dakota Boomtown
Book Summary
In less than a decade, the United States rose to the top of oil producing nations, ahead of Saudi Arabia and Russia. Much of this boom is driven by the discovery of shale oil and the introduction of the hydraulic fracturing process, so much so that nearly 9 out of 10 oil and gas wells in the country use fracking. North Dakota's Bakken region, which is roughly the size of Delaware, has accounted for more than 40 percent of the growth in U.S. oil production.
Yet, not all is well and very little is said about the dark side of these oil boom towns. Hydraulic fracturing relies on injecting water with different chemicals that contaminate deep water wells, directly affecting the water supply of more than 15 million people.  
Award-winning author Blaire Briody gives a first-person account of life and conditions in Williston, which located on the western edge of North Dakota, at the heart of the oil boom. In this story about the sociology of the modern day gold rush, Briody informs about mineral rights severed from surface rights in a state that is putting farmers living on the property in direct conflict with oil drillers.
Harsh and unpredictable weather conditions, loneliness, long work hours and subhuman living conditions await those attracted to the oil boom in the hope of riches. Briody focuses on the lives of migrant workers who were already struggling as blue collar workers before they arrive in this oil town to bear the brunt of oil field injuries, market volatility and uncertainty due to oil price collapses. Briody's personal accounts of these oil workers give us an up-close-and-personal look at individuals who are often running away from issues at home only to be gripped by another set of serious problems.
The New Wild West was the 2016 finalist for the Lukas Work-in-Progress Award from Columbia Journalism School and Harvard's Nieman Foundation. Additionally, Briody received the Richard J. Margolis Award for social justice reporting in 2014.
Key Topics
What is fracking and how did the shale oil revolution come about?
What led to the shale oil boom and how has it impacted local economies?
What kind of people were attracted to the shale oil boom?
How did the town of Williston, North Dakota change as a result of the oil boom?
What was life like in oil boom towns and how have living conditions changed?
How do local residents react to the oil boom?
How did local and state regulators handle the situation?
How can fracking affect local drinking water supply and set off earthquakes?
How have Native American tribes suffered from the oil boom in the Bakken region?
Other Books by Author