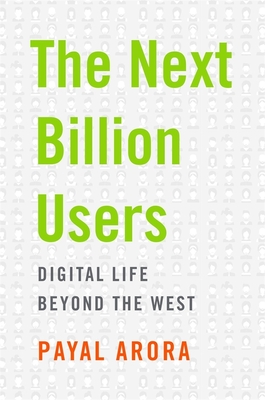 Harvard University Press
The Next Billion Users: Digital Life Beyond the West
0

Rate this book

Key Metrics
Harvard University Press

Hardcover

9780674983786

8.3 X 5.8 X 1.1 inches

0.95 pounds

Computers > Social Aspects

English
$0
Available Copies:
0 Copies

Secure Transaction
Book Description
A digital anthropologist examines the online lives of millions of people in China, India, Brazil, and across the Middle East--home to most of the world's internet users--and discovers that what they are doing is not what we imagine.
New-media pundits obsess over online privacy and security, cyberbullying, and revenge porn, but do these things really matter in most of the world? The Next Billion Users reveals that many assumptions about internet use in developing countries are wrong.
After immersing herself in factory towns, slums, townships, and favelas, Payal Arora assesses real patterns of internet usage in India, China, South Africa, Brazil, and the Middle East. She finds Himalayan teens growing closer by sharing a single computer with common passwords and profiles. In China's gaming factories, the line between work and leisure disappears. In Riyadh, a group of young women organizes a YouTube fashion show.
Why do citizens of states with strict surveillance policies appear to care so little about their digital privacy? Why do Brazilians eschew geo-tagging on social media? What drives young Indians to friend foreign strangers on Facebook and give missed calls to people? The Next Billion Users answers these questions and many more. Through extensive fieldwork, Arora demonstrates that the global poor are far from virtuous utilitarians who mainly go online to study, find jobs, and obtain health information. She reveals habits of use bound to intrigue everyone from casual internet users to developers of global digital platforms to organizations seeking to reach the next billion internet users.
The Next Billion Users: Digital Life Beyond the West
Author Bio
Payal Arora is a digital anthropologist and an author, speaker and professor. She holds the Chair in Technology, Values, and Global Media Cultures at Erasmus University Rotterdam. Her expertise lies in user experience of & inclusive design for low-income communities worldwide and comes with more than two decades of fieldwork experience in such contexts. 
She is the author of a number of award-winning books including the 'Leisure Commons' and more recently the "The Next Billion Users" with Harvard Press. Engadget (Top 5 in the 'Technorati top 100' and Times endorsed 'best blogs on tech') stated that her Harvard book is one of "the most interesting, thought provoking books on science and technology we can find." 
Forbes named her the "next billion champion" and "the right kind of person to reform tech." Several international media outlets have covered her work including The BBC, Financial Times, The Economist, Quartz, Tech Crunch, The Boston Globe, F.A.Z, The Nation and CBC. She has consulted on tech innovation for diverse organizations such as UNESCO, KPMG, GE, and HP. 
She has given more than 200 talks in 109 cities in 59 countries alongside figures like Jimmy Wales and Steve Wozniak and a TEDx talk on the future of the internet. She is the co-founder of FemLab.Co, a global future of work initiative. She sits on several boards such as Columbia University's Earth Institute and World Women Global Council in New York. 
She has held Fellow positions at GE, ZEMKI, ITSRio, and NYU and is a section editor for Global Perspectives, a University of California Press journal. She has a MA in International Policy from Harvard University and a PhD in Language, Literacy and Technology from Columbia University. She is Indian and American and currently lives in Amsterdam.
Education
2005-2009 Columbia University in New York City PhD (International and Transcultural Studies:
Kellogg funded Doctorate)
2003-2004 Harvard University, Cambridge MA (International Policy: Deans List)
1996-1999 Mount Carmel College Bangalore BA (English Literature) 
Source: Payaalarora.com
more