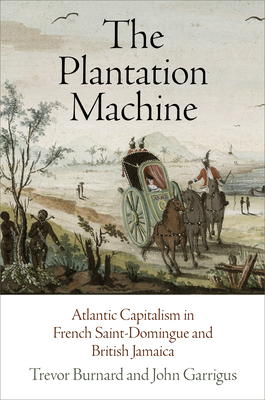 University of Pennsylvania Press
The Plantation Machine: Atlantic Capitalism in French Saint-Domingue and British Jamaica
0

Rate this book

Key Metrics
University of Pennsylvania Press

Hardcover

9780812248296

9.1 X 6.2 X 1.3 inches

1.45 pounds

History > Caribbean & West Indies - General

English
$0
Estimated Arrival:
Jul 7 -Jul 11
Available Copies:
10+ Copies

Secure Transaction
Book Description
Jamaica and Saint-Domingue were especially brutal but conspicuously successful eighteenth-century slave societies and imperial colonies. These plantation regimes were, to adopt a metaphor of the era, complex machines, finely tuned over time by planters, merchants, and officials to become more efficient at exploiting their enslaved workers and serving their empires. Using a wide range of archival evidence, The Plantation Machine traces a critical half-century in the development of the social, economic, and political frameworks that made these societies possible. Trevor Burnard and John Garrigus find deep and unexpected similarities in these two prize colonies of empires that fought each other throughout the period. Jamaica and Saint-Domingue experienced, at nearly the same moment, a bitter feud between planters and governors, a violent conflict between masters and enslaved workers, a fateful tightening of racial laws, a steady expansion of the slave trade, and metropolitan criticism of planters' cruelty.
The core of The Plantation Machine addresses the Seven Years' War and its aftermath. The events of that period, notably a slave poisoning scare in Saint-Domingue and a near-simultaneous slave revolt in Jamaica, cemented white dominance in both colonies. Burnard and Garrigus argue that local political concerns, not emerging racial ideologies, explain the rise of distinctive forms of racism in these two societies. The American Revolution provided another imperial crisis for the beneficiaries of the plantation machine, but by the 1780s whites in each place were prospering as never before--and blacks were suffering in new and disturbing ways. The result was that Jamaica and Saint-Domingue became vitally important parts of the late eighteenth-century American empires of Britain and France.
The Plantation Machine: Atlantic Capitalism in French Saint-Domingue and British Jamaica
Author Bio
Trevor Burnard is the Wilberforce Professor of Slavery and Emancipation at the University of Hull and the Director of the Wilberforce Institute. Between 2011 and 2019 he was Professor of American History and Head of School(2011-18) in the School of Historical and Philosophical Studies at the University of Melbourne, where he has been a faculty member since February 2011. 
In addition to many articles, book chapters and edited books on the Caribbean and the Chesapeake, Trevor has written the following monographs. One was Creole Gentlemen: The Maryland Elite 1690-1776 (New York and London: Routledge, 2002) and a prize-winning study of a Jamaican slave overseer, Mastery, Tyranny, and Desire: Thomas Thistlewood and His Slaves in the Anglo-Jamaican World (Chapel Hill: University of North Carolina Press, 2004). 
He has published a study of plantation societies in late seventeenth and eighteenth-century British North America and the West Indies in the American Beginnings Series called Planters, Merchants, and Slaves: Plantation Societies in British America, 1650-1820 (Chicago: University of Chicago Press, 2015). In June 2016, he published a co-authored comparative study of colonialism and slavery (with John Garrigus of University of Texas at Arlington) called The Plantation Machine: Atlantic Capitalism in French Saint-Domingue and British Jamaica (Philadelphia: University of Pennsylvania Press, 2016). 
In 2020 he published two syntheses – The Atlantic in World History, 1492- 1830 (London: Bloomsbury) and Britain in the Wider World (London: Routledge) – and a monograph on mid to late eighteenth-century Jamaica, Jamaica in the Age of Revolution (Philadelphia: Pennsylvania). He has been the editor-in-chief of the Oxford Bibliography Online in Atlantic History since 2009.
Source: trevorburnard.com
more