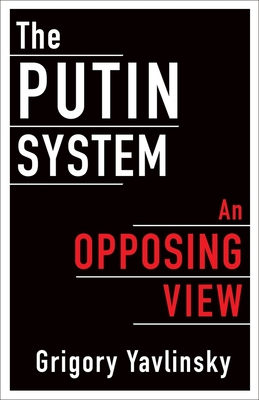 Grigory Yavlinsky

Columbia University Press
The Putin System: An Opposing View
0

Rate this book

Key Metrics
Grigory Yavlinsky

Columbia University Press

Hardcover

9780231190305

8.6 X 5.7 X 1 inches

0.9 pounds

Political Science > World - Russian & Former Soviet Union

English
$0
Estimated Arrival:
Sep 27 -Sep 29
Available Copies:
10+ Copies

Secure Transaction
Book Description
A quarter century after the fall of the Soviet Union, Russia once again looms large over world affairs, from Ukraine to Syria to the 2016 U.S. election. Yet how power works in present-day Russia--how Vladimir Putin came to power and maintains his rule--remains opaque and often misunderstood. In The Putin System, Russian economist and opposition leader Grigory Yavlinsky explains his country's politics from a unique perspective, voicing a Russian liberal critique of the post-Soviet system that is vital for the West to hear. Combining the firsthand experience of a practicing politician with academic expertise, Yavlinsky gives unparalleled insights into the sources of Putin's power and what might be next. He argues that Russia's dysfunction is neither the outcome of one man's iron-fisted rule nor a deviation from the supposedly natural development of Western-style political institutions. Instead, Russia's peripheral position in the global economy has fundamentally shaped the regime's domestic and foreign policy, nourishing authoritarianism while undermining its opponents. The quasi-market reforms of the 1990s, the bureaucracy's self-perpetuating grip on power, and the Russian elite's frustration with its secondary status have all combined to enable personalized authoritarian rule and corruption. Ultimately, Putin is as much a product of the system as its creator. In a time of sensationalism and fear, The Putin System is essential reading for anyone seeking to understand how power is wielded in Russia.
The Putin System: An Opposing View
Author Bio
Grigory Yavlinsky is a former politician, presidential candidate in Russia and economic adviser to Russian government.
In 1990 Yavlinsky was appointed Deputy Chairman of the Council of Ministers of the Russian Soviet Federative Socialist Republic (RSFSR) and Chairman of the State Commission for Economic Reform. In this position, he drafted a program to transform the central planned economy of the USSR into a free market in two years, together with a package of laws for its implementation. It was dubbed the 500 days program and secured the backing of the Supreme Soviet of the RSFSR and Supreme Soviets of a number of Soviet republics.
Yavlinsky is Chairman of the Federal Political Committee of the Russian United Democratic Party YABLOKO, Vice President of Liberal International and Professor of the National Research University Higher School of Economics.
Yavlinsky holds a PhD in economics from the Central Economic Mathematical Institute of the Russian Academy of Sciences; his doctoral dissertation was entitled "The socio-economic system of Russia and the problem of its modernization." He is a professor in the National Research University Higher School of Economics. Yavlinsky speaks Russian, Ukrainian and English.
Source: www.yavlinsky.ru