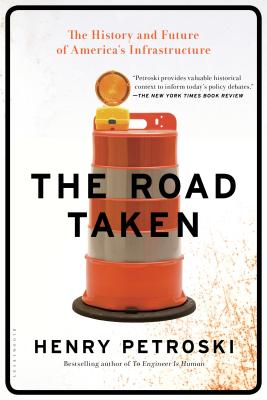 The Road Taken:The History and Future of America's Infrastructure
Book Summary
History of the network of bridges and highways that span four million miles to the four corners of the United States is rarely chronicled from the perspective of infrastructure. In fact the use of term is only three-decade old.
In less than nine decades, mud lanes once traveled by horse drawn carriages have evolved to a complex web of highways zoomed by ever faster automobiles and trucks and now are part of the American infrastructure that we all rely on for our daily lives.
These arteries of highways and boulevards played a central role in the development of suburban sprawl and home ownership for younger couples. Coast to Coast commerce thrived after the federal government built a network of highways connected places both near and far. However this ever expanding infrastructure of roads and bridges need timely maintenance and repairs.
The politicians of all kinds for decades have favored building new roads to maintaining as the complex transportation network is forced to support traffic and load at times three to five times larger than the original design.
In an interview with Readara, Henry Petroski, the author of The Road Taken, offers a lively account of the history of transportation infrastructure in the last century and what we need to do now to keep that transportation landscape supporting travel and commerce. Petroski also delves into the politics of financing roads that favors building big projects and neglecting the equally important timely maintenance and repairs. 
Other Books by Author