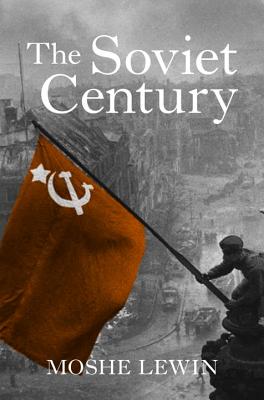 Verso
The Soviet Century
0

Rate this book

Key Metrics
Verso

Paperback

9781784780661

7.8 X 5.2 X 1.3 inches

1.1 pounds

History > Russia & the Former Soviet Union

English
$0
Estimated Arrival:
Aug 22 -Aug 24
Available Copies:
10+ Copies

Secure Transaction
Book Description
On the centenary of the Russian Revolution, a classic history of the Soviet era, from 1917 to its fall
One hundred years after the Russian Revolution the Soviet Union remains the most extraordinary, yet tragic, attempt to create a society beyond capitalism. Yet its history was one that for a long time proved impossible to write.
In The Soviet Century, Moshe Lewin follows this history in all its complexity, guiding us through the inner workings of a system which is still barely understood. In the process he overturns widely held beliefs about the USSR's leaders, the State-Party system and the powerful Soviet bureaucracy.
Departing from a simple linear history, The Soviet Century traces all the continuities and ruptures that led from the founding revolution of October 1917 to the final collapse of the late 1980s and early 1990s, passing through the Stalinist dictatorship, the impossible reforms of the Khrushchev years and the glasnost and perestroika policies of Gorbachev.
The Soviet Century
Author Bio
Moshe Lewin was born in Wilno, Poland in 1921. He graduated with his B. A. from the Tel Aviv University, Israel, in 1961 and earned his Ph.D. from Sorbonne, Paris, in 1964. 
He was Director of Study Ecole des Hautes Etudes, Paris, from 1965 to 1966 and senior fellow of Columbia University from 1967 to 1968. Appointed research professor of the Birmingham University, England, in 1968, he held that position until 1978 when he came to the United States and was appointed professor of history at the University of Pennsylvania. 
One of the most influential scholars of Russian and Soviet history in the world, Lewin authored many books, among them 
Russian Peasant and Soviet Power (1968),
Lenin's Last Struggle (1968),
Political Undercurrents in Soviet Economic Debates (1974),
The Making of the Soviet System (1985), The Gorbachev Phenomenon (1988),
Stalinism and the Seeds of Soviet Reform : the Debates of the 1960's (1991),
Russia–USSR–Russia : the Drive and Drift of a Superstate (1995), and
Stalinism and Nazism : Dictatorships in Comparison (co-edited with Ian Kershaw, 1997).
 
He retired and was elected Professor Emeritus at Penn in 1995.
 
Source: University Penn Archives and Records Center 
more