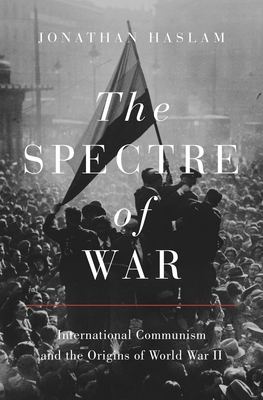 Princeton University Press
The Spectre of War: International Communism and the Origins of World War II
0

Rate this book

Key Metrics
Princeton University Press

Hardcover

9780691182650

-

-

History > Modern - 20th Century

English
$0
Estimated Arrival:
Aug 23 -Aug 25
Available Copies:
10+ Copies

Secure Transaction
Book Description
A bold new history showing that the fear of Communism was a major factor in the outbreak of World War II
The Spectre of War looks at a subject we thought we knew--the roots of the Second World War--and upends our assumptions with a masterful new interpretation. Looking beyond traditional explanations based on diplomatic failures or military might, Jonathan Haslam explores the neglected thread connecting them all: the fear of Communism prevalent across continents during the interwar period. Marshalling an array of archival sources, including records from the Communist International, Haslam transforms our understanding of the deep-seated origins of World War II, its conflicts, and its legacy.
Haslam offers a panoramic view of Europe and northeast Asia during the 1920s and 1930s, connecting fascism's emergence with the impact of the 1917 Bolshevik Revolution. World War I had economically destabilized many nations, and the threat of Communist revolt loomed large in the ensuing social unrest. As Moscow supported Communist efforts in France, Spain, China, and beyond, opponents such as the British feared for the stability of their global empire, and viewed fascism as the only force standing between them and the Communist overthrow of the existing order. The appeasement and political misreading of Nazi Germany and fascist Italy that followed held back the spectre of rebellion--only to usher in the later advent of war.
Illuminating ideological differences in the decades before World War II, and the continuous role of pre- and postwar Communism, The Spectre of War provides unprecedented context for one of the most momentous calamities of the twentieth century.
The Spectre of War: International Communism and the Origins of World War II
Author Bio
Jonathan Haslam is a leading scholar on the history of thought in international relations and the history of the Soviet Union whose work builds a bridge between historical studies and the understanding of contemporary phenomena through critical examinations of the role of ideology. 
His studies of Soviet foreign policy are expansive in their quality and range, demonstrating his keen originality of thought, supported by insightful and comprehensive archival research. 
Haslam is the author of many books, as well as a blog, www.throughrussianeyes.com, which highlights aspects of Russia's foreign and defense policies that do not see the light of day in mainstream media.
Honors 
Appointments: Historical-Diplomatic Department of the Russian Foreign Ministry, International Advisory Committee 1992–96; House of Lords European Union Committee, Sub-Committee for Common Security and Foreign Policy, Specialist Adviser 2001–02
Editorships: Annals of Communism, Editorial Board 1999–; Cold War History, Editorial Advisory Board 2000­–
Journal of Contemporary History, Editorial Board 2011–
Fellowships: British Academy; Corpus Christi College, Cambridge; Johns Hopkins University, Society of Scholars; Royal Historical Society
Source: Institute for Advanced Study 
more
Videos