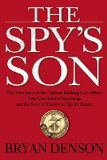 The Spy's Son: The True Story of the Highest-Ranking CIA Officer Ever Convicted of Espionage and the Son He Trained to Spy for Russia
Interview with Bryan Denson
July 8, 2016
Sign Up. Full interview.
About Bryan Denson
Bryan Denson is a veteran journalist who specializes in telling hard-to-get stories in long-form narratives. He prefers offbeat tales requiring investigative lock-picking, followed by deep immersion into the lives of his characters to reveal the souls of their stories.
Bryan's 33-year career at five daily newspapers, most recently The Houston Post and The Oregonian,  helped uncover scandal in the government's biggest work program for disabled Americans; pressured the U.S. Air Force to rewrite deadly flight manual instructions for its primary transport plane; and exposed wasteful and duplicative efforts to clone monkeys at a national primate lab. His stories also have laid bare Social Security's glacial process of awarding disability benefits to those who desperately need them while wasting billions on those who don't. Bryan's award-winning series, "The Slaying of a Generation,"  chronicled a 300 percent increase in the gunfire deaths of Houston's African-American teens in the early 1990s.
His work has explained how the FBI's sloth in a multiple-murder investigation inadvertently caused the rape of a teen-age girl. It showed how a small-town police department wrote $1 million in speeding tickets in just six months on a patch of highway outside its jurisdiction. And his series "Death Without Decorum" uncovered horrifying abuses by funeral home operators across the Lone Star State.
Bryan's award-winning narrative "Grave Injustice" explored the global black market for Native American antiquities through the prism of Jack Lee Harelson, the most prolific looter and grave robber in the American West. Harelson's crimes – including the attempted murder-for-hire of a business partner, two judges, and the cop who brought him to justice – was the subject of a truTV special: "Grave Robber."
The Spy's Son takes readers deep into life inside a CIA family, a federal prison, and into the colorful world of spies and spy catchers on four continents. The book was released by The Atlantic Monthly Press on May 5, 2015, and is now for sale in North America, the United Kingdom, Australia, New Zealand, Poland, and soon in Russia and Estonia. Film rights were purchased by Paramount Pictures.
Bryan has been awarded scores of national and regional journalism honors. He is a winner of the George Polk Award, the Michael E. DeBakey Journalism Award, and was named a finalist for The Pulitzer Prize in national reporting. Denson was a finalist for the Investigative Reporters and Editors Award, a second-place finisher in The Society for Features Journalism for news series and projects, and an honorable mention for the Robert F. Kennedy Journalism Award. The Spy's Son, Bryan's first book,  was a finalist for the William E. Colby Award. 

He lives in Portland, Oregon, with his 17-year-old son, Holden.
Interview Summary
It is always shocking to learn why people who are trained to protect their homeland end up hurting the nation. One such unlikely conspirator, Harold James "Jim" Nicholson, was extremely smart, highly skilled, and greatly respected at the CIA. Yet, Nicholson felt betrayed by the agency when his personal life was about to collapse. In his trademark long-form style, investigative reporter Bryan Denson reveals how Nicholson's contacts with his Russian counterparts eventually led to the selling of top secrets to Russia's spy agency for the sum of $300,000.
When the CIA and the FBI brought down the mole at the headquarters and imprisoned the deeply conflicted spy trainer, it all seemed to be over. At least until Nicholson, while still in prison, managed to recruit his son Nathan to pass on more secrets to Moscow.
Key Topics
How did Jim Nicholson manage to ride above the system that was supposed to prevent information leaks?
Why did Nicholson betray the United States and offered intelligence to Russian agents?
How did the father-son duo manage to circumvent the system of checks and balance for a second time?
Why did Nathan feel compelled to help his father Jim?
Insights into the work of the CIA, FBI, KGB, SVR, and FSB
Other Books by Author