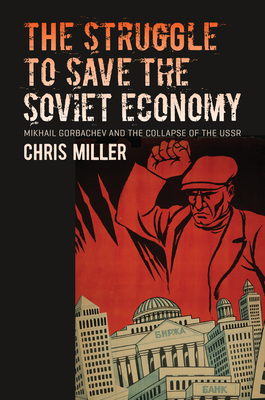 The Struggle to Save the Soviet Economy:Mikhail Gorbachev and the Collapse of the USSR
Book Summary
Only a hundred years ago, Russia was just another large country and was neither a powerful nation nor a regional or a super power. However, after World War I, Lenin and then Stalin quickly consolidated resources and focused on building an effective infrastructure that led to the steady rise of Russia to a regional power. By the time World War II broke out Russia had become a force to reckon with and was miles ahead of Britain and France in producing military hardware. 
In his well-researched book, The Struggle to Save Soviet Economy, Professor Chris Miller drives to the heart of the rise, expansion and fall of the Soviet Union. With access to thousands of Russian archived documents, Professor Miller dissects the political tensions, leadership objectives and decision-making processes at the highest echelons of Russia's power structure.
Founded on Marxism-Leninism ideology, the Soviet Union was fueled to the near top of the world with the help of consolidation of political power in Kremlin, the sacrifice of its people and the fervent desire of its leaders to build a powerful state at the expense of personal liberty and property.
That system, though inefficient, survived more than seven decades and did manage to produce a powerful state that other powers in the world could not ignore. In the late 1970s, Russian leaders' efforts to modernize the system unleashed forces that neither Politburo nor communist party leader Mikhail Gorbachev was able to contain. The political paralysis produced by powerful forces that opposed economic reforms was the ultimate cause of the Soviet Union's collapse.
Although the arms race with the West, a sharp fall in crude oil prices – the Soviet Union's main source of foreign exchange – and significant human losses in the Soviet-Afghan War contributed to the economic pain, they were not the main reasons behind the fall of the Soviet Union.
Other Books by Author