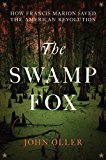 The Swamp Fox: How Francis Marion Saved the American Revolution
Book Summary
Francis Marion, though the subject of Television series and a movie, was rarely the focus of historians. General Marion, a National Hero is also credited for adopting the guerilla warfare tactics from the Cherokee in successfully repealing British Army during the American Revolution.
South Carolina was the key theater of operations in the American Revolution but the state was in turmoil and population was divided and at times pitted father against son. Most people don't realize the importance of the war in the state as nearly 20% of all men died in the last two years of Revolution in South Carolina.
After the fall of Charleston, the mood was defeatist and people had signed allegiance to the British Crown. While South Carolinians were divided and many supported the British, Francis Marion kept the American Revolution alive by refusing to give up and assembled his volunteer army.
Francis Marion overcame several challenges in recruiting army, won the confidence of Continental army leaders and mounted an effective resistance to the British army which ultimately led the collapse of the British southern strategy and repel of the British occupation of South Carolina
Key Topics
Who was Francis Marion and what style of warfare tactics did he use against the British army and Loyalists in the American Revolution?
How did Francis Marion manage to eliminate the advantage of his vastly superior and better-equipped opponents?
How and when did Francis Marion become known as The Swamp Fox?
What was the objective of the Southern Campaign between 1780 and 1782?
Who were the other leading figures in the Southern Campaign: Banastre Tarleton, Lord Cornwallis and Light-Horse Harry Lee?
Why was the battle of Camden the darkest hour of the American Revolution?
How did Francis Marion actually save the American Revolution?
Why were the battles in South Carolina a most uncivil war?
How did Francis Marion come to symbolize "purest patriotism"?
Other Books by Author