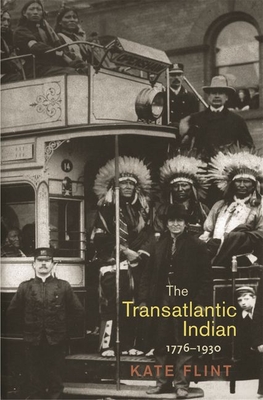 Princeton University Press
The Transatlantic Indian, 1776-1930
0

Rate this book

Key Metrics
Princeton University Press

Paperback

9780691203188

9.1 X 6.1 X 1 inches

1.3 pounds

Literary Criticism > English, Irish, Scottish, Welsh

English
$0
Estimated Arrival:
Aug 11 -Aug 15
Available Copies:
10+ Copies

Secure Transaction
Book Description
This book takes a fascinating look at the iconic figure of the Native American in the British cultural imagination from the Revolutionary War to the early twentieth century, and examining how Native Americans regarded the British, as well as how they challenged their own cultural image in Britain during this period. Kate Flint shows how the image of the Indian was used in English literature and culture for a host of ideological purposes, and she reveals its crucial role as symbol, cultural myth, and stereotype that helped to define British identity and its attitude toward the colonial world.
Through close readings of writers such as Charles Dickens, Elizabeth Gaskell, and D. H. Lawrence, Flint traces how the figure of the Indian was received, represented, and transformed in British fiction and poetry, travelogues, sketches, and journalism, as well as theater, paintings, and cinema. She describes the experiences of the Ojibwa and Ioway who toured Britain with George Catlin in the 1840s; the testimonies of the Indians in Buffalo Bill's Wild West Show; and the performances and polemics of the Iroquois poet Pauline Johnson in London. Flint explores transatlantic conceptions of race, the role of gender in writings by and about Indians, and the complex political and economic relationships between Britain and America.
The Transatlantic Indian, 1776-1930 argues that native perspectives are essential to our understanding of transatlantic relations in this period and the development of transnational modernity.
The Transatlantic Indian, 1776-1930
Author Bio
Kate Flint, Provost Professor of Art History and English, joined the University of Southern California in July 2011. She taught at Bristol and Oxford Universities before moving to Rutgers: The State University of New Jersey (New Brunswick), in 2001. She served as Chair of the Department of Art History from Jan. 2012 to August 2015, and is again Chair from August 2018 - August 2021.

Kate Flint's research spans the 19th and 20th centuries, and is both interdisciplinary and transatlantic. Trained at Oxford University and the Courtauld Institute of Art, she wrote her M.A. dissertation on social realism and 19th-century Italian art, and her PhD on the British reception of contemporary painting, 1870-1910. 
Her areas of specialization include Victorian and early twentieth-century cultural, visual, and literary history; the history of photography from its inception to now; women's reading and cultural consumption; and transatlantic studies. Professor Flint's latest book, Flash! Photography, Writing and Surprising Illumination appeared with Oxford University Press early in 2018. 
She has published The Transatlantic Indian 1776-1930 (Princeton University Press, 2008), which looks at the two-way relations between Native Americans and the British in the long 19th century, and explores the intersections of modernity, nationhood, performance, and popular culture; The Victorians and The Visual Imagination (Cambridge University Press, 2000) and The Woman Reader, 1837-1914 (Oxford University Press, 1993). 
These last two books both won the British Academy's Rose Mary Crawshay prize. She has also written Dickens (Harvester, 1985). She was General Editor of the Cambridge History of Victorian Literature (2012); co-edited Culture, Landscape and the Environment (Oxford University Press, 2000), and edited Victorian Love Stories (Oxford University Press, 1996) as well as a number of works by Dickens, Virginia Woolf, D. H. Lawrence and Anthony Trollope for Penguin Classics and OUP World's Classics. 
Additionally, Kate has published many articles on Victorian, modernist and contemporary fiction; on the history of reading; on Victorian and 20th-century painting and photography, and on cultural history. 
She has held Fellowships at the National Humanities Center (2007-8; 2015-16); the Huntington Library; the Humanities Research Centre at the ANU, Canberra; and the Georgia O'Keeffe Research Center. She held an ACLS Fellowship in AY 2016. In 2016, Kate received USC Dornsife's Raubenheimer award for outstanding performance in scholarship, teaching, and service. In 2018-20, she was a Faculty Fellow in USC Dornsife's Society of Fellows. She's President of the North American Victorian Studies Association (2020-22), and is an International Member of the UK's 2021 Research Excellence Framework team.  In 2020, she was awarded a Guggenheim Fellowship, which she will take in 2021-22.

Currently, Kate is working on a project that explores Victorian fascination with close observation of the ordinary natural world, and considers how this relates to today's environmental crises. Through the lens of contemporary artists who deploy Victorian themes and motifs, she discusses the slow violence of environmental damage that was latent in 19th-century scrutiny and representations; assesses the temporalities through which we understand ecological change; and provides a justification for being concerned today with the Victorian period. 
Additionally, she is working on a history of English literary and visual culture during a period of dramatic change and cultural diversity, 1875-1915, and is bringing together and revisiting a number of earlier essays on materiality and sensory perception.
Source: University of Southern California Dornsife College of Letters, Arts & Sciences 
more