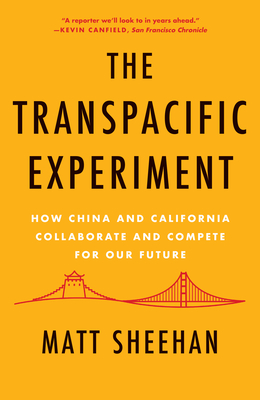 Counterpoint LLC
The Transpacific Experiment: How China and California Collaborate and Compete for Our Future
0

Rate this book

Key Metrics
Counterpoint LLC

Paperback

9781640094208

8.5 X 5.6 X 0.9 inches

0.3 pounds

Political Science > International Relations - Trade & Tariffs

English
$0
Available Copies:
0 Copies

Secure Transaction
Book Description
A timely, vital account of California's unique relationship with China, told through the exploits of the entrepreneurs, activists, and politicians driving transformations with international implications.
Tensions between the world's superpowers are mounting in Washington, D.C., and Beijing. Yet, the People's Republic of China and the state of California have built deep and interdependent socioeconomic exchanges that reverberate across the globe, making California and China a microcosm of the most important international relationship of the twenty-first century.
In The Transpacific Experiment, journalist and China analyst Matt Sheehan chronicles the real people who are making these connections. Sheehan tells the story of a Southern Californian mayor who believes a Chinese electric bus factory will save his town from meth labs and skinheads. He follows a Chinese AI researcher who leaves Google to compete with his former employer from behind the Great Firewall. Sheehan joins a tour bus of wealthy Chinese families shopping for homes in the Bay Area, revealing disgruntled neighbors and raising important questions about California's own narratives around immigration and the American Dream.
Sheehan's on-the-ground reporting reveals movie sets in the Hollywood of China, Chinese-funded housing projects in San Francisco, Chinese immigrants who support Donald Trump, and more. Each of these stories lays bare the new reality of twenty-first-century superpowers: the closer they get to one another, the more personal their frictions become.
Cuts right to the heart of the relationship between Silicon Valley and China: the tangled history, the current tensions, and the uncertain future . . . a must-read.--Kai-Fu Lee, former president of Google China and founder of Sinovation Ventures
The Transpacific Experiment: How China and California Collaborate and Compete for Our Future
Author Bio
Matt Sheehan is a Fellow at the Paulson Institute's think tank, MacroPolo, where he leads work on U.S.-China technology issues, with a specialization in artificial intelligence. His research maps and quantifies the key inputs to AI ecosystems globally. Matt is the author of the book The Transpacific Experiment: How China and California Collaborate and Compete for our Future.
From 2010-2016 Matt lived and worked in China, including as the first China correspondent for The World Post. In 2016 he returned to the Bay Area, working as an analyst and consultant on topics connecting China and California. In 2018, he was selected as a finalist for the Young China Watcher of the Year award.
Matt's research has been cited and he has been quoted in numerous media outlets, including The New York Times, The Wall Street Journal, The Financial Times, Reuters, The San Francisco Chronicle, and elsewhere.
Source: macropolo.org
more
Videos