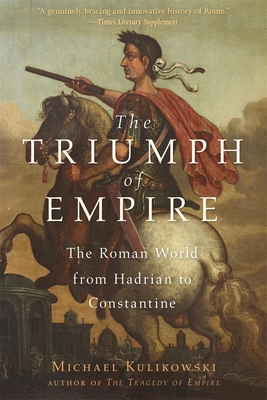 Harvard University Press
The Triumph of Empire: The Roman World from Hadrian to Constantine
0

Rate this book

Key Metrics
Harvard University Press

Paperback

9780674241381

8.2 X 5.4 X 1.1 inches

1.05 pounds

History > Ancient - Rome

English
$0
Available Copies:
0 Copies

Secure Transaction
Book Description
A genuinely bracing and innovative history of Rome.
--Times Literary Supplement
The Triumph of Empire takes us into the political heart of imperial Rome and recounts the extraordinary challenges overcome by a flourishing empire. Roman politics could resemble a blood sport: rivals resorted to assassination as emperors rose and fell with bewildering speed, their reigns sometimes measured in weeks. Factionalism and intrigue sapped the empire from within, and imperial succession was never entirely assured.
Michael Kulikowski begins with the reign of Hadrian, who visited the farthest reaches of his domain and created a stable frontier, and takes us through the rules of Marcus Aurelius and Diocletian to Constantine, who overhauled the government, introduced a new state religion, and founded a second Rome. Despite Rome's political volatility, imperial forces managed to defeat successive attacks from Goths, Germans, Persians, and Parthians.
This is a wonderfully broad sweep of Roman history. It tells the fascinating story of imperial rule from the enigmatic Hadrian through the dozens of warlords and usurpers who fought for the throne in the third century AD to the Christian emperors of the fourth--after the biggest religious and cultural revolution the world has ever seen.
--Mary Beard, author of SPQR
This was an era of great change, and Kulikowski is an excellent and insightful guide.
--Adrian Goldsworthy, Wall Street Journal
The Triumph of Empire: The Roman World from Hadrian to Constantine
Author Bio
I am a late Roman historian and work on the political and institutional history of the empire between the second and fifth centuries, with a special interest in how one can read historical sources against the background of other evidence. 
My first book was a study of Roman and post-Roman Spain that tried to set the small body of written texts against the background of material culture; my second looked at the impact of Roman imperialism on neighboring territories and argued that the history of the barbarians, specifically the Goths, can be understood entirely as a response to Roman imperialism. 
I am presently at work on four projects: a history of the Roman empire from Hadrian to the fall of the western empire for the Profile History of the Ancient World; a study of late imperial political culture and the gap between political rhetoric and political practice called The Rhetoric of Being Roman; a history of the Latin chronicle tradition from its beginnings to the fifth century AD, in four volumes and in collaboration with R.W. Burgess; and as editor-in-chief of the forthcoming Landmark Ammianus Marcellinus.
Before coming to Penn State in 2009, I taught for eight years at the University of Tennessee.
Education 
PhD, University of Toronto, 1998
MA, University of Toronto, 1992
BA, Rutgers University, 1991
 
Source: PennState College of Liberal Arts 
more