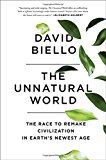 The Unnatural World: The Race to Remake Civilization in Earth's Newest Age
Book Summary
Humans, undoubtedly the most invasive species to have inhabited the Earth, have been transforming the planet for thousands of years, not always by design. This transformative human force influences other co-existing living forms and long-term outcomes in ways that are often too hard to perceive.
In The Unnatural World, David Biello, a journalist and environment and energy editor at Scientific American, offers a balanced review of our ecological history, the effects of terraforming, and the challenges of the latest geological epoch, the Anthropocene. 
Key Topics
How humans have come to dominate the Earth and become a world-changing force?
What kinds of marks are humans making and how deep and pervasive these marks are?
Humanity's new chapter in Earth's history – in the rocks, chemistry of oceans, composition of air, and in the evolution of life.
What is the Environmentalist's paradox?
Why are so many people benefiting in what seem to be the Earth's most challenging times?
Why do we have a collective social amnesia that allows a continual decline of the planet?
Other Books by Author