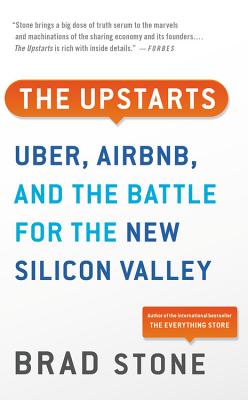 The Upstarts:How Uber, Airbnb, and the Killer Companies of the New Silicon Valley Are Changing the World
Interview with Brad Stone
October 12, 2017
Sign Up to listen to full interview.
About Brad Stone
I am the senior executive editor for global technology coverage at Bloomberg and the author of "The Upstarts: How Uber, Airbnb and the Killer Companies of the New Silicon Valley are Changing the World."

Previously I wrote "The Everything Store: Jeff Bezos and the Age of Amazon," which won the Business Book of the Year Award in 2013 from The Financial Times and Goldman Sachs.

Over the last few years, I have authored a few dozen cover or feature stories for Bloomberg Businessweek on companies such as Apple, Google, Amazon, Facebook, Yahoo, Twitter, Costco and the Chinese tech companies Didi, Baidu and Xiaomi. I joined the magazine from the New York Times, where I covered Silicon Valley from the newspaper's San Francisco bureau. Before that, I was a reporter for the once proud magazine known as Newsweek. I am also the author of a previous work of non-fiction, Gearheads, which the San Francisco Chronicle selected as one of the best books of 2003.

I graduated from Columbia University in 1993 and am originally from Cleveland, Ohio. I've lived in San Francisco for over 15 years but I'm still a Clevelander at heart- or should I say, at heartbreak, since the sports teams always manage to lose big (except the Cavs!) I have twin daughters and am teaching them to root for Cleveland teams as well because I believe adversity builds character. I hope you enjoy my books. Feel free to write me at brad.stone at gmail to let me know what you think.
more
Interview Summary
Small startups can end up not only disrupting but also reordering economic segments, especially when capital, technology and entrepreneurship come together. In the last decade, advances in smart phones, animal spirits of young entrepreneurs and surge in venture capital led the rise of two companies – Uber and Airbnb.
In an interview with Readara, celebrated author Brad Stone chronicles that hyper active decade in Silicon Valley. Covering one startup alone is difficult, but Stone weaves together a story of two startups that typified that period in time. The Upstarts offers an inside view in how these two disruptors dealt with regulatory challenges, business growth, and global operations.
Stone interlaces the early struggles and near failures of Uber in cobbling together capital and technology with the similar rise and stumbles at Airbnb. Although the two startups ended up disrupting two markets – local transportation and short term rentals, respectively – Uber and Airbnb pursued different paths in their success journeys and continue to evolve in their own ways. 
Key Topics
What led to the rise of Uber and Airbnb in the span of less than a decade?
How have these companies exploited the advances in mobile phone devices?
How does the sharing economy extend to taxi drivers and room providers?
Where did Uber and Airbnb find their niches?
What did regulatory battles teach these two companies?
Why did Uber succeed where others failed?
Other Books by Author