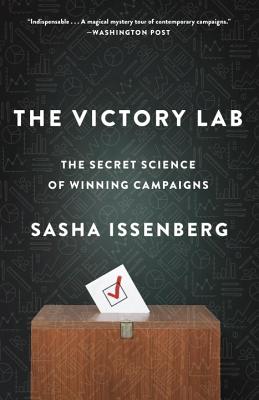 Broadway Books
The Victory Lab: The Secret Science of Winning Campaigns
0

Rate this book

Key Metrics
Broadway Books

Paperback

9780307954800

8 X 5.1 X 0.9 inches

0.66 pounds

Political Science > Political Process - Campaigns & Elections

English
$0
Available Copies:
0 Copies

Secure Transaction
Book Description
UPDATED FOR THE 2016 ELECTION
The book Politico calls Moneyball for politics shows how cutting-edge social science and analytics are reshaping the modern political campaign.
Renegade thinkers are crashing the gates of a venerable American institution, shoving aside its so-called wise men and replacing them with a radical new data-driven order. We've seen it in sports, and now in
The Victory Lab
,
journalist Sasha Issenberg tells the hidden story of the analytical revolution upending the way political campaigns are run in the 21st century.
The Victory Lab
follows the academics and maverick operatives rocking the war room and re-engineering a high-stakes industry previously run on little more than gut instinct and outdated assumptions. Armed with research from behavioural psychology and randomized experiments that treat voters as unwitting guinea pigs, the smartest campaigns now believe they know who you will vote for even before you do. Issenberg tracks these fascinating techniques--which include cutting edge persuasion experiments, innovative ways to mobilize voters, heavily researched electioneering methods--and shows how our most important figures, such as Barack Obama and Mitt Romney, are putting them to use with surprising skill and alacrity.
Provocative, clear-eyed and energetically reported,
The Victory Lab
offers iconoclastic insights into political marketing, human decision-making, and the increasing power of analytics.
The Victory Lab: The Secret Science of Winning Campaigns
Author Bio
Political journalist Sasha Issenberg will be in residence as a Fellow in the Center for Civil Society in the UCLA Luskin School of Public Affairs and the UCLA Department of Political Science for spring quarter 2014.
Mr. Issenberg is currently Washington correspondent for The Monocle, a magazine covering global affairs, business culture and design. He is the Author of The Victory Lab: the Secret Science of Winning Elections (Crown, 2012), which shows how political campaigns have been transformed by innovations in data, analytics, and behavioral psychology. He is also the author of The Sushi Economy: Globalization and the Making of Modern Delicacy (Gotham/Penguin, 2007), which describes how sushi went from a street snack to a major global commodity in less than a decade.
He is currently writing a book on marriage equality to be published by Crown/Random House, The Engagement: A Quarter-Century of Defending, Defining, and expanding Marriage in America. The Engagement will document the political, legal, and social history of the battles over gay marriage in the United States. Mr. Issenberg's UCLA Fellowship is supported in part by a generous contribution from the David Bohnett Foundation.
Mr. Issenberg will co-teach a Fiat Lux undergraduate course, Victory Lab, Exploring the Mechanics of Modern Campaigns with Lynn Vavreck of the Political Science Department, who was instrumental in bringing Mr. Issenberg to UCLA. The Fiat Lux Course will meet every other Tuesday from 3:30 to 4:50 in room 1284 of the Public Affairs building. Luskin students are welcome to sit in on the class, which will also feature a number of prominent guest speakers from the political arena.
In addition he will lead brown bag lunch discussions for the Luskin community: Thursday, May 1, 12 pm "Why We Stopped Fighting over Gay Marriage" in 3333, and Wednesday, May 14, 12 pm for "Why the Democrats Are Better with Data" in Room 3343. He will also lead a Dean's Salon in May on the topics of "Sushi, Campaign Strategy, and Civil Rights."
Mr. Issenberg has held editorial and reporting positions for George, Philadelphia Magazine, The Boston Globe, and Slate. He has also published articles in a wide range of major publications including the New York Times Magazine, New York, The Atlantic and The Washington Monthly. He was a Fellow of the Institute of Politics at the Harvard Kennedy School Institute of Politics in 2013. He is a 2002 graduate of Swarthmore College.
Most recently, he published "America Exports Democracy, Just not the Way You Think," in the March 14 Sunday New York Times Review.  And in 2012 he held his own with Stephen Colbert.
Source: University of California Los Angeles 
more
Videos