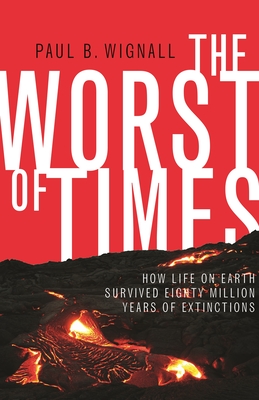 Princeton University Press
The Worst of Times: How Life on Earth Survived Eighty Million Years of Extinctions
0

Rate this book

Key Metrics
Princeton University Press

Paperback

9780691176024

8.4 X 5.6 X 0.5 inches

0.7 pounds

Science > Paleontology

English
$0
Estimated Arrival:
May 23 -May 25
Available Copies:
10+ Copies

Secure Transaction
Book Description
Unraveling the mystery of the catastrophic age of extinctions
Two hundred sixty million years ago, life on Earth suffered wave after wave of cataclysmic extinctions, with the worst wiping out nearly every species on the planet. The Worst of Times delves into the mystery behind these extinctions and sheds light on the fateful role the primeval supercontinent, known as Pangea, might have played in causing these global catastrophes. Drawing on the latest discoveries as well as his own firsthand experiences conducting field expeditions to remote corners of the world, Paul Wignall reveals what scientists are only now beginning to understand about the most prolonged and calamitous period of environmental crisis in Earth's history. Wignall shows how these series of unprecedented extinction events swept across the planet, killing life on a scale more devastating than the dinosaur extinctions that would follow. The Worst of Times unravels one of the great enigmas of ancient Earth and shows how this ushered in a new age of vibrant and more resilient life on our planet.
The Worst of Times: How Life on Earth Survived Eighty Million Years of Extinctions
Author Bio
Professor Paul Wignall lectures in palaeontology and sedimentology. He obtained his first degree at the University of Oxford and his PhD at the University of Birmingham under the supervision of Professor Tony Hallam and has been a lecturer at Leeds since 1989. 
He has collaborated with numerous colleagues both nationally and internationally, especially at the China University of Geosciences (Wuhan), during his wide ranging field expeditions. Wignall has published over 200 research articles and 3 books, most recently: The Worst of Times" How Life on Earth Survived 80 Million Years of Extinctions, published by Princeton University Press and enjoys investigating a very broad spectrum of topics that range from flood basalt eruptions to palaeoecology. 
He has supervised nearly 30 PhD students and received several awards including the Jean-Baptiste Lamarck Model of the EGU and the Wolfson Merit Award from the Royal Society. He has served on the REF panel, been editor of several geological journals, been president of several geological societies and appeared in over a dozen science documentaries.
Research interests

Wignall has a broad range of research interests spanning sedimentology and palaeontology. He has been investigating the Permo-Triassic mass extinction since the late 1980s and has broadened his research topics to include study of all crises including the late Devonian (Frasnian/Famennian), end-Cretaceous, end-Triassic and Early Jurassic (Toarcian) mass extinction events. His multidisciplinary approach to the origins of these crises in Earth's history includes the study of their fossil, sequence stratigraphic, geochemical signature and their stable isotope records. 
Evidence for marine anoxia is often associated with all of these extinction events and this nicely overlaps with Professor Wignall's other main research interest: the characterisation of black shale depositional environments for which he sues a combination of geochemical, petrographic and palaeoecologcoal approaches. He also investigates Carboniferous basin history of NW Europe.
Education 
BA, Geology (1st Class Honours), University of Oxford
PhD, Palaeoecology, University of Birmingham
Source: University of Leeds - School of Earth and Environment
more