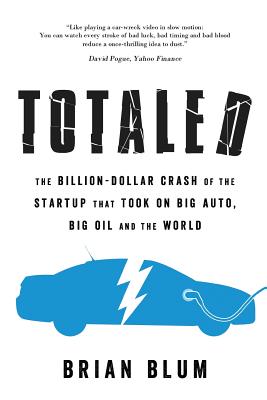 Totaled:The Billion-Dollar Crash of the Startup that Took on Big Auto, Big Oil and the World
Interview with Brian Blum
October 23, 2017
Sign Up to listen to full interview.
About Brian Blum
Business and technology journalist Brian Blum loves to tell the stories of the world's most fascinating entrepreneurs and the companies they create. Combining deep research with the ability to translate complex concepts into conversational language, Brian can bring your story – and the story of your company – to life. Brian writes regularly about people, business and technology for The Jerusalem Post, Haaretz, Israel21c, The Jerusalem Report, Hadassah and the AIM Group, as well as for a number of universities, publicly traded companies and non-profit organizations. His personal blog, This Normal Life, has appeared online weekly since 2002. Brian knows the hi-tech world first-hand: his Internet publishing startup Neta4 raised $3.2 million in 1998. He subsequently served as entrepreneur-in-residence for Jerusalem Global Ventures, and was an assistant vice president of marketing for telecommunications provider Comverse. Before there was the Internet, Brian was producing multimedia CD-ROM titles. His first book, Interactive Media: Essentials for Success, was published by Ziff-Davis Press. Brian Blum has a B.A. in Creative Writing from Oberlin College and a master's degree in Instructional Technology from San Jose State University. Brian is an engaging and lively presenter who has spoken at conferences, forums and roundtables around the world, lectured at universities in Israel and the United States, and served as the international president of the IICS (International Interactive Communications Society), the largest professional association for the multimedia industry. Originally from the San Francisco Bay Area, Brian lives today in Jerusalem with his wife and three children. In his spare time, he produces the eclectic indie music show "Brainwaves," which appears weekly on several Internet radio stations.
more
Interview Summary
In 2008, Shai Agassi set out to build electric car infrastructure with a grand vision to change the world but without any experience in the auto industry. A born salesman, young Agassi had the necessary tech savvy and political connections, but went on to build a company that lacked specific purpose.
The rise and failure of Agassi and Better Place is going to be the subject of management schools for decades to come. Was it Agassi's hubris, his lack of attention to detail, or simply his blind conviction that led to the fall of the once promising startup whose founder lacked operating experience?
In an interview with Readara, Brian Blum, author of Totaled, chronicles the meteoric rise and fall of Better Place along with its founder in four short years. Better Place promised to deliver 30,000 cars at the end of the third year of its existence, only managing to sell a mere 500.
Why did Better Place stumble so fast despite raising astronomical amounts of capital? Blum details how an impatient Agassi failed to appreciate management challenges, was caught up in his hyperbole, ignored customer needs, and ultimately failed to understand what it takes to build a business. 
Key Topics
Who was Shai Agassi and what was his grand vision?
Why did Agassi believe in building electric car charging infrastructure rather than in batteries or electric cars?
How did Better Place plan to tackle the electric car range anxiety and price hurdle?
How did Better Place manage to raise nearly $1 billion dollars?
Why did Better Place need so much capital to build its business?
Why did the electric car Renault Fluence Z.E. fail to catch on in Israel?
What challenges and blind spots did Shai Agassi face in building sales and management?
Why did the company run out of money and fail to deliver what it promised?
Was Agassi's vision faulty or was he in a hurry and simply lacking fiscal discipline?
Other Books by Author