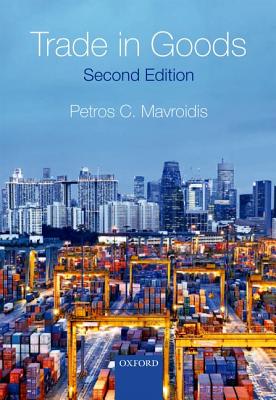 Oxford University Press, USA
Trade in Goods
0

Rate this book

Key Metrics
Oxford University Press, USA

Hardcover

9780199657483

-

-

Law > International

English
$0
Available Copies:
0 Copies

Secure Transaction
Book Description
This new edition of Trade in Goods is an authoritative work on international trade by one of the most influential scholars in the field. It provides a comprehensive and detailed analysis of every WTO agreement dealing with trade in goods. The focus of the book is on the reasoning behind the various WTO agreements and their provisions, and the manner in which they have been understood in practice. It introduces both the historic as well as the economic rationale for the emergence of the multilateral trading system, before dealing with WTO practice in all areas involving trade in goods. It contests the claim that the international trade agreements themselves represent 'incomplete contracts', realized through interpretation by the WTO and other judicial bodies. The book comprehensively analyses the WTO's case law, and it argues that a more rigorous theoretical approach is needed to ensure a greater coherence in the interpretation of the core provisions regulating trade in goods.
This second edition readdresses and moves beyond the discussion of the GATT presented in the first edition to assess in significant detail every trade in goods agreement at the WTO, both multilateral as well as plurilateral. The book is written to be accessible to those new to the field, with an authoritiative level of detail and analysis that makes it essential reading for lawyers and economists alike.

Trade in Goods
Author Bio
Petros C. Mavroidis joined the faculty in 2003. He served as a member of the World Trade Organization (WTO) legal affairs division from 1992 to 1995 and has been a legal adviser to the WTO since 1996. He was the chief co-rapporteur for the American Law Institute study "Principles of International Trade: The WTO" (2013).
Mavroidis has written 10 books and scores of peer-reviewed journal articles and book chapters. His book, The Regulation of International Trade, won the 2017 Certificate of Merit in International Law for a distinguished contribution to the field from the Executive Council of the American Society of International Law. The two-volume tome is a meticulous exploration of WTO agreements regulating trade in goods. The third volume of the series dealing with Trade in Services will be published by MIT Press during summer 2020.
At Columbia Law, Mavroidis is a member of the Center on Global Governance and serves on the boards of advisers for the Columbia Journal of Transnational Law and the Columbia Journal of European Law.
Among his many affiliations, Mavroidis is a member of the American Law Institute, American Arbitration Association, and the Swiss Institute of Comparative Law.
 
Education

Dr Iuris, University of Heidelberg, Germany, 1992
LL.M., University of California at Berkeley, 1986
Master's degree, L'Institut d'Études Européennes, U.L.B, Brussels, 1983
Ptihion (LL.B) in Law, University of Thessaloniki, Faculty of Law and Economic Science, 1982
Source: Columbia Law School 
more