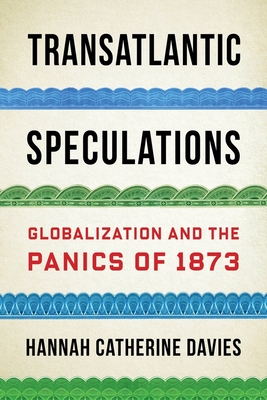 Hannah Catherine Davies

Columbia University Press
Transatlantic Speculations: Globalization and the Panics of 1873
0

Rate this book

Key Metrics
Hannah Catherine Davies

Columbia University Press

Hardcover

9780231185561

9.5 X 6.3 X 0.8 inches

1.1 pounds

Business & Economics > Economic History

English
$0
Available Copies:
0 Copies

Secure Transaction
Book Description
The year 1873 was one of financial crisis. A boom in railway construction had spurred a bull market--but when the boom turned to bust, transatlantic panic quickly became a worldwide economic downturn. In Transatlantic Speculations, Hannah Catherine Davies offers a new lens on the panics of 1873 and nineteenth-century globalization by exploring the ways in which contemporaries experienced a tumultuous period that profoundly challenged notions of economic and moral order. Considering the financial crises of 1873 from the vantage points of Berlin, New York, and Vienna, Davies maps what she calls the dual transatlantic speculations of the 1870s: the financial speculation that led to these panics as well as the interpretative speculations that sprouted in their wake. Drawing on a wide variety of sources--including investment manuals, credit reports, business correspondence, newspapers, and legal treatises--she analyzes how investors were prompted to put their money into faraway enterprises, how journalists and bankers created and spread financial information and disinformation, how her subjects made and experienced financial flows, and how responses ranged from policy reform to anti-Semitic conspiracy theories when these flows suddenly were interrupted. Davies goes beyond national frames of analysis to explore international economic entanglement, using the panics' interconnectedness to shed light on contemporary notions of the world economy. Blending cultural, intellectual, and legal history, Transatlantic Speculations gives vital transnational and comparative perspective on a crucial moment for financial markets, globalization, and capitalism.
Transatlantic Speculations: Globalization and the Panics of 1873
Author Bio
Hannah Catherine Davies is assistant professor of modern history at the University of Zurich and prior to that she was a research fellow at Free University of Berlin.
Professor Davies has won a graduate scholarship from German National Merit Foundation in 2012 and a research scholarship from German Historical Institute Washington DC in 2011 and visiting fellowship from Wolfson College Cambridge funded by the German Academic Exchange Service.
Research Interests
History of capitalism, especially of the stock exchanges and stock markets
History of crime
German and American history of the 19th and 20th centuries
Education
2015: PhD (magna cum laude), Free University of Berlin (first reader: Prof. Sebastian Conrad; second reader: Prof. Michaela Hampf)
2009: MA, Free University of Berlin (History and Philosophy)
2006: MA (distinction), University College London (European Thought)
Source: University of Zurich