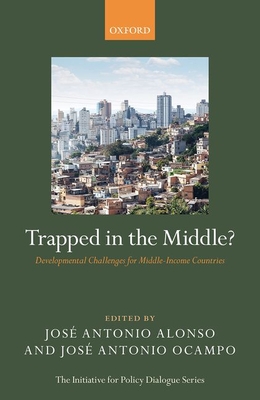 Jos� Antonio Alonso

Oxford University Press, USA
Trapped in the Middle?: Developmental Challenges for Middle-Income Countries
0

Rate this book

Key Metrics
Jos� Antonio Alonso

Oxford University Press, USA

Hardcover

9780198852773

9.3 X 6 X 1.1 inches

1.55 pounds

Business & Economics > Development - Economic Development

English
$0
Available Copies:
0 Copies

Secure Transaction
Book Description
There is growing evidence that overcoming the low-income threshold and reaching middle-income status is not sufficient for countries to converge toward high-income levels. Few middle-income countries have successfully completed that transit in recent decades, with the majority remaining in the middle-income group, and so facing what has come to be called the middle-income trap. It is therefore essential to explore whether middle-income traps really exist and, if they do, how these pitfalls are manifested, what their causes are, what economic policy measures are required to escape from them, and what international cooperation can do to support this process. Trapped in the Middle? brings together diverse perspectives on these important questions, providing new evidence and analytical approaches to enrich the debate on the domestic and international challenges faced by a significant number of middle-income countries, in which over three-quarters of the global population live.

Trapped in the Middle?: Developmental Challenges for Middle-Income Countries
Author Bio
Doctor in Economic Sciences and Professor of Applied Economics at the Complutense University of Madrid. He was Director of Economic Cooperation at the Ibero-American Cooperation Institute; Vice-rector at the Menéndez Pelayo International University; and director of the Complutense Institute of International Studies (ICEI).
He has been part of the Committee for Development Policy of ECOSOC, of ??the United Nations (between 2007 and 2018); of the European Advisory Group of the Bill and Melinda Gates Foundation (between 2012 and 2014) and of the High Level Group of Wise Persons on the European financial architecture for development (in 2019).
He is currently an expert member of the Development Cooperation Council. He has works published in various specialized magazines. Among his most recent books are Cooperation for Development in Times of Crisis, Fondo de Cultura Económica, Madrid, 2012 (with José Antonio Ocampo, eds.), Whose English version (Development Cooperation in Times of Crisis) has been edited by Columbia University Press, New York; Alternative Development Strategies for the post-2015 Era, edited by Bloomsbury Academic, New York, 2013 (with Giovanni Andrea Cornia and Rob Vos, eds.); Global Governance and Rules for the post-2015 Era, edited by Bloomsbury Academic, 2015 (with José Antonio Ocampo, eds.). He has also published Language, Company and Market, (with J.L. García Delgado and J.C Jiménez), Ariel, Fundación Telefónica, 2015; Development aid is useful (in Spanish and Italian), RBA Editores, 2017; and The new face of international development cooperation: emerging actors and modalities, (with P. Aguirre and G. Santander), Catarata, 2019.
His latest book is: Trapped in the Middle? Developmental Challenges for Middle-Income Countries, (with J.A. Ocampo) (Eds.), Oxford University Press, 2020.
Source: alonsojoseantonio.com