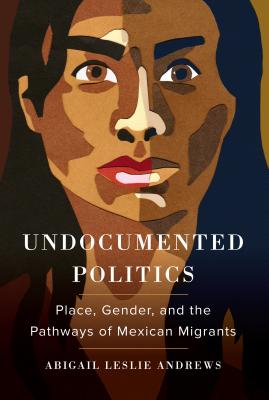 University of California Press
Undocumented Politics: Place, Gender, and the Pathways of Mexican Migrants
0

Rate this book

Key Metrics
University of California Press

Paperback

9780520299979

9.1 X 6.1 X 1.2 inches

1.05 pounds

Social Science > Emigration & Immigration

English
$0
Estimated Arrival:
May 23 -May 25
Available Copies:
10+ Copies

Secure Transaction
Book Description
In 2018, more than eleven million undocumented immigrants lived in the United States. Not since slavery had so many U.S. residents held so few political rights. Many strove tirelessly to belong. Others turned to their homelands for hope. What explains their clashing strategies of inclusion? And how does gender play into these fights?
Undocumented Politics offers a gripping inquiry into migrant communities' struggles for rights and resources across the U.S.-Mexico divide. For twenty-one months, Abigail Andrews lived with two groups of migrants and their families in the mountains of Mexico and in the barrios of Southern California. Her nuanced comparison reveals how local laws and power dynamics shape migrants' agency. Andrews also exposes how arbitrary policing abets gendered violence. Yet she insists that the process does not begin or end in the United States. Rather, migrants interpret their destinations in light of the hometowns they leave behind. Their counterparts in Mexico must also come to grips with migrant globalization. And on both sides of the border, men and women transform patriarchy through their battles to belong. Ambitious and intimate, Undocumented Politics reveals how the excluded find space for political voice.
Undocumented Politics: Place, Gender, and the Pathways of Mexican Migrants
Author Bio
I am Associate Professor of Sociology and Director of the Mexican Migration Field Research Program at the University of California-San Diego. I am a leader in collaborative, community-action research at the US-Mexico border.  My research focus is state violence, gender, and grassroots advocacy among migrants from Mexico and Central America. I also look at how to forge spaces of regeneration and joy amidst climate & refugee crises. I am committed to training Latinx students as the next generation of US leaders, and I integrate students directly into collaborative, applied, and trauma-informed research to make the world more just for migrants.
My 2018 book, Undocumented Politics: Place, Gender, and the Pathways of Mexican Migrants (UC Press) traces how "voiceless" undocumented Oaxacan communities confront state exclusion, upend patriarchy, and fight to belong.
My forthcoming book, Banished Men: The Afterlife of Carceral Deportation, tells the stories of 172 deported men, looking at how their lives are shaped by getting locked up. From 2009-2020, the US deported more than five million people. More than 90% were men. Most went through prison and/or detention. I ask: What becomes of these men the US locks up and casts off as criminal? 
How does exile shape their families, their struggles for rights and resources, and, more fundamentally, their sense of themselves as men? Nearly 30 Latinx undergraduate and graduate students contributed to the project, some of whom had parents deported during the work. Their voices shaped the text and bring deep attention to the emotional lives of men.
I am currently running several community-action research projects for asylum seekers at the US-Mexico border, including a partnership with Al Otro Lado to document Mexican state violence, a project with Espacio Migrante mapping anti-black racism in the borderlands, a project with Innovation Law Lab looking at how ICE facilities block communication between migrants and advocates, and a project with Al Otro Lado and the UCSD Center on Global Justice to understand and bridge information gaps that block asylum seekers from meeting their basic needs.
Throughout my work, I take a critical lens on gender. I am interested in how states use ideas about gender to reinforce power inequalities. I also draw attention to the ways grassroots groups transform gender relationships as they confront unfair conditions. I share this institutional and political focus with a group of feminist scholars I met at Berkeley, many of whom helped write a theoretical handbook I co-edited, called The Social Life of Gender (Sage, 2017). I also help coordinate the Gender and Power Network, a group of cutting-edge sociologists working to theorize the complexities of gender, power, and the state.
Source: abigailandrews.com
more