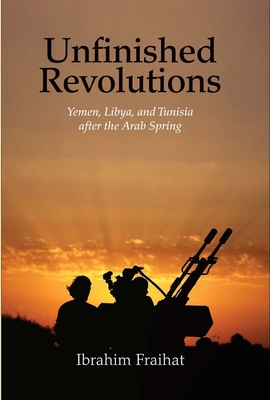 Ibrahim Fraihat

Yale University Press
Unfinished Revolutions: Yemen, Libya, and Tunisia After the Arab Spring
0

Rate this book

Key Metrics
Ibrahim Fraihat

Yale University Press

Hardcover

9780300215632

9.3 X 6.1 X 1.2 inches

1.37 pounds

Political Science > World - African

English
$0
Available Copies:
0 Copies

Secure Transaction
Book Description
Post-revolution states often find that once a transition process begins, challenges can arise, such as political polarization and the threat of civil war. A respected commentator on Middle Eastern politics, Ibrahim Fraihat compares three countries grappling with political transitions in the wake of the Arab Spring: Yemen, Libya, and Tunisia. Fraihat argues that to attain enduring peace and stability, post-revolution states must engage in inclusive national reconciliation processes which include a national dialogue, a truth seeking effort, the reparation of victims' past injuries, dealing with the former regime, and institutional reform. Women, civil society, and tribes, among other social forces, can support the transition process. Fraihat's research shows how some aspects of transitions have been politicized and that each country has taken a specific approach, raising or diminishing the chances of civil war or a healthy transition. This book is based on the original field research Fraihat conducted over three years in Yemen, Libya, and Tunisia. It is the result of over 200 interviews with key figures including senior government officials, heads of political parties, revolutionary youth activists, former regime loyalists, representatives of women's and civil society organizations, military and militia commanders, tribal leaders, and members of displaced communities.
Unfinished Revolutions: Yemen, Libya, and Tunisia After the Arab Spring
Author Bio
Dr. Ibrahim Fraihat is an associate professor in international conflict resolution at the Doha Institute for Graduate Studies, and non-resident fellow at Deakin University's Middle East Studies Forum in Australia. He previously served as senior foreign policy fellow at the Brookings Institution, and taught conflict resolution at Georgetown University and George Washington University. His latest book publications include: Iran and Saudi Arabia: Taming a Chaotic Conflict (Edinburgh University Press Feb. 2020), Unfinished Revolutions: Yemen, Libya, and Tunisia after the Arab Spring (Yale University Press, 2016).
Dr. Fraihat has published extensively on Middle East politics, with articles appearing in The New York Times, Foreign Affairs, Foreign Policy, Huffington Post, Al Jazeera websites, and elsewhere. Fraihat received a doctorate in conflict analysis and resolution from George Mason University in 2006. He is the recipient of George Mason University's Distinguished Alumni Award (2014) for his achievements in the field of conflict resolution. Dr. Fraihat was also awarded the Bronze Kondratieff Medal (2017) for "an outstanding contribution to the development of social sciences"
He consulted for international organizations on subjects of his research interest such as conflict resolution and post-conflict reconstruction in the Arab world, with a particular emphasis on conflict management and mediation, political transitions, national reconciliation, national dialogue, transitional justice, and institutional reform.
Research Interests
After the completion of a comparative study of the post-revolution transition processes in Yemen, Libya and Tunisia Dr. Fraihat is currently studying strategies of containment of the Arab-Iranian conflict and the mechanisms that could help prevent further escalation and better regulate the conflict development. The study assumes that an efficient management of the conflict should establish a foundation for more likely solutions in the future. Furthermore, the research examines the role of factors like sectarianism, nationalism, and geopolitics in Arab-Iran conflict escalation and attempts to identify alternative mechanisms that could help in de-escalation in the region especially in places like Syria, Yemen, and Iraq. ?
Source: Doha Institute for Graduate Studies