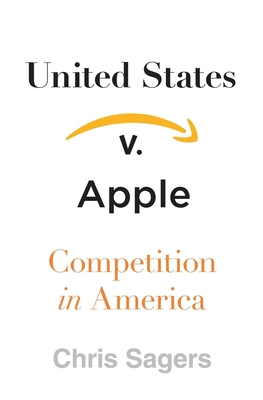 Harvard University Press
United States V. Apple: Competition in America
0

Rate this book

Key Metrics
Harvard University Press

Hardcover

9780674972216

9.3 X 6.4 X 1.4 inches

1.4 pounds

Law > Antitrust

English
$0
Available Copies:
0 Copies

Secure Transaction
Book Description
One of the most-followed antitrust cases of recent times--United States v. Apple--reveals an often-missed truth: what Americans most fear is competition itself.
In 2012 the Department of Justice accused Apple and five book publishers of conspiring to fix ebook prices. The evidence overwhelmingly showed an unadorned price-fixing conspiracy that cost consumers hundreds of millions of dollars. Yet before, during, and after the trial millions of Americans sided with the defendants. Pundits on the left and right condemned the government for its decision to sue, decrying Amazon's market share, railing against a new high-tech economy, and rallying to defend beloved authors and publishers. For many, Amazon was the one that should have been put on trial. But why? One fact went unrecognized and unreckoned with: in practice, Americans have long been ambivalent about competition.
Chris Sagers, a renowned antitrust expert, meticulously pulls apart the misunderstandings and exaggerations that industries as diverse as mom-and-pop grocers and producers of cast-iron sewer pipes have cited to justify colluding to forestall competition. In each of these cases, antitrust law, a time-honored vehicle to promote competition, is put on the defensive. Herein lies the real insight of United States v. Apple. If we desire competition as a policy, we must make peace with its sometimes rough consequences. As bruising as markets in their ordinary operation often seem, letting market forces play out has almost always benefited the consumer. United States v. Apple shows why supporting cases that protect price competition, even when doing so hurts some of us, is crucial if antitrust law is to protect and maintain markets.
United States V. Apple: Competition in America
Author Bio
Chris Sagers, the James A. Thomas Distinguished Professor of Law and Faculty Director of the Cleveland-Marshall Solo Practice Incubator, joined the faculty in the fall of 2002. He has taught courses in Antitrust, Banking Regulation, Business Organizations, Law & Economics, Administrative Law, Legislation and the Regulatory State, and a seminar concerning the theory of the firm. He has testified before the U.S. Congress and the Antitrust Modernization Commission. 
He is author of Apple, Antitrust, and Irony (Harvard Univ. Press 2016) and Antitrust Examples & Explanations, co-author (with Theresa Gabaldon of George Washington University) of a casebook on business organizations from Aspen Publishing, and co-author of Sullivan, Grimes & Sagers, The Law of Antitrust, a leading hornbook. His articles have appeared in the Georgetown Law Journal, UCLA Law Review, and other leading journals. 
He has been quoted in the New York Times, Wall Street Journal, Cleveland Plain Dealer, The Huffington Post, and National Public Radio, and he is a frequent panelist and lecturer.
He frequently participates in important antitrust litigation, by consulting with plaintiffs and enforcement officials pro bono and authoring briefs amicus curiae in federal courts of appeals. He is a member of the American Law Institute, a Senior Fellow of the American Antitrust Institute, and a leadership member of the ABA Antitrust Section. In 2015 he was awarded the University's campus-wide Distinguished Research Award for Faculty. The law school's alumni association has awarded him the Walter G. Stapleton Award for Faculty Excellence and he has twice been elected Teacher of the Year by the students at large.
Before joining the faculty, Professor Sagers practiced law for four years in Washington, D.C., first at Arnold & Porter and then at Shea & Gardner. He earned his law and public policy degrees at the University of Michigan and was an editor of the Michigan Law Review. Hailing originally from the peaceful obscurity of small-town Iowa, Professor Sagers lives with his wife and two sons in the nicest little town in America, Cleveland Heights, Ohio.
Source:  Cleveland-Marshall College of Law / Cleveland State University
more
Videos