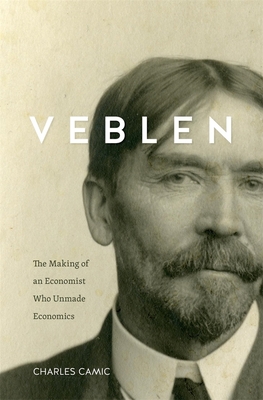 Harvard University Press
Veblen: The Making of an Economist Who Unmade Economics
0

Rate this book

Key Metrics
Harvard University Press

Hardcover

9780674659728

9.4 X 6.3 X 1.9 inches

2.05 pounds

Social Science > Sociology - General

English
$0
Estimated Arrival:
Aug 11 -Aug 15
Available Copies:
3 Copies

Secure Transaction
Book Description
A bold new biography of the thinker who demolished accepted economic theories in order to expose how people of economic and social privilege plunder their wealth from society's productive men and women.
Thorstein Veblen was one of America's most penetrating analysts of modern capitalist society. But he was not, as is widely assumed, an outsider to the social world he acidly described. Veblen overturns the long-accepted view that Veblen's ideas, including his insights about conspicuous consumption and the leisure class, derived from his position as a social outsider.
In the hinterlands of America's Midwest, Veblen's schooling coincided with the late nineteenth-century revolution in higher education that occurred under the patronage of the titans of the new industrial age. The resulting educational opportunities carried Veblen from local Carleton College to centers of scholarship at Johns Hopkins, Yale, Cornell, and the University of Chicago, where he studied with leading philosophers, historians, and economists. Afterward, he joined the nation's academic elite as a professional economist, producing his seminal books The Theory of the Leisure Class and The Theory of Business Enterprise. Until late in his career, Veblen was, Charles Camic argues, the consummate academic insider, engaged in debates about wealth distribution raging in the field of economics.
Veblen demonstrates how Veblen's education and subsequent involvement in those debates gave rise to his original ideas about the social institutions that enable wealthy Americans--a swarm of economically unproductive parasites--to amass vast fortunes on the backs of productive men and women. Today, when great wealth inequalities again command national attention, Camic helps us understand the historical roots and continuing reach of Veblen's searing analysis of this sclerosis of the American soul.
Veblen: The Making of an Economist Who Unmade Economics
Author Bio
Ph.D. (Sociology), University of Chicago, 1979. Areas of interest include: classical and contemporary sociological theory; sociology of ideas/knowledge; sociology of science; history of sociology and social thought; historical sociology.
Prior to joining the Northwestern faculty, Camic was Martindale-Bascom Professor of Sociology at the University of Wisconsin-Madison. In recent years, his work has centered on examining the social processes by which the social sciences took shape and developed in the United States in the period from 1880 to 1940.
He is currently writing a book on the social origins of Thorstein Veblen's heterodox economics. He recently edited Social Knowledge in the Making (with Michele Lamont and Neil Gross) and Essential Writings of Thorstein Veblen (with Geoffrey M. Hodgson)
Source: Northwestern University Department of Sociology 
more