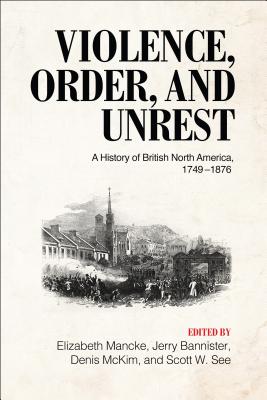 University of Toronto Press
Violence, Order, and Unrest: A History of British North America, 1749-1876
0

Rate this book

Key Metrics
University of Toronto Press

Paperback

9781487523701

9 X 6.1 X 1.3 inches

1.7 pounds

History > Canada - Pre-Confederation (to 1867)

English
$0
Available Copies:
0 Copies

Secure Transaction
Book Description
This edited collection offers a broad reinterpretation of the origins of Canada. Drawing on cutting-edge research in a number of fields, Violence, Order, and Unrest explores the development of British North America from the mid-eighteenth century through the aftermath of Confederation. The chapters cover an ambitious range of topics, from Indigenous culture to municipal politics, public executions to runaway slave advertisements. Cumulatively, this book examines the diversity of Indigenous and colonial experiences across northern North America and provides fresh perspectives on the crucial roles of violence and unrest in attempts to establish British authority in Indigenous territories. In the aftermath of Canada 150, Violence, Order, and Unrest offers a timely contribution to current debates over the nature of Canadian culture and history, demonstrating that we cannot understand Canada today without considering its origins as a colonial project.
Violence, Order, and Unrest: A History of British North America, 1749-1876
Author Bio
Dr. Elizabeth Mancke, Canada Research Chair in Atlantic Canada Studies, has a doctorate from the Johns Hopkins University in Baltimore, Maryland, and an MA from the University of British Columbia in Vancouver. Before coming to UNB, Dr. Mancke was at the University of Akron in Ohio.
Dr. Mancke's broad research interests address the impact of European overseas expansion on governance and political systems, from local government to international relations. She has found that the study of Atlantic Canada provides unusually rich points of analytic purchase on major issues in the modern world.
Over the last half of a millennium, the region has dealt with continental and global pulls, with commercial exploitation and settler expansion, with choosing between membership in an empire or a transcontinental state, with extreme wealth and poverty. Understanding how these issues played themselves out in Atlantic Canada sheds light on other parts of the world. 
Research Projects 
Elizabeth Mancke's CRC research on law-making in pre-Confederation British North America analyses legislation not only as a political activity, but also as a social, cultural and intellectual exercise that reflected the ambitions and aspirations of both the colonial states and their representative populations.
Her research involves the compilation of a database of the characteristics of legislation passed in the six pre-Confederation colonies between 1758 to 1867: Nova Scotia, New Brunswick, Lower Canada, Upper Canada, Prince Edward Island, and Newfoundland.
Once compiled the database will be launched as an open-source research tool that can be used worldwide. She will analyse legislation as political discourse to look for how British North Americans balanced imperial, provincial and local claims and understood their positions within an increasingly interdependent, globalized, and culturally diverse empire.
Dr. Mancke is working on a book entitled Imperium Unbound: European Expansion and the Making of Modern Geopolitics. It argues that European expansion created such fragmented, conflicting, and overlapping claims, or "spaces of power," that Europeans needed a multilateral system of international relations to establish and adjudicate "rules of expansion."
This book challenges the field of international relations by showing how the interstate system developed as much from multilateral diplomacy among Europeans over empire-building as from continental European relations; the largest imperial structure to emerge from overseas expansion was not any one empire but the international system itself.  Her work on Atlantic Canada influenced this study because the theoretical perspective she uses was initially developed in "Spaces of Power in the Early Modern Northeast."
Source: University of Bew Brunswick 
more