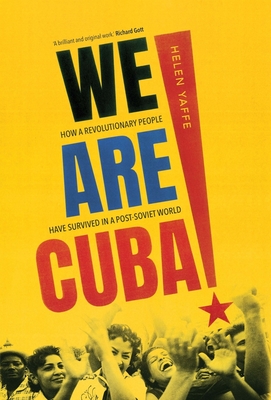 We Are Cuba!:How a Revolutionary People Have Survived in a Post-Soviet World
Book Summary
The six-decade old socialist system has dominated international political and media discourse on Cuba. The glaring deficiencies of the socialist approach have widely been reported in the Western media but the revolution has also delivered notable gains and policy successes that are rarely recognized.
For three decades social revolution's survival was attributed to Soviet aid but since then another three decades have passed and Cuban socialism has survived through innovation and continual change in its relationship with other nations. What most international observers fail to account is that the Cuban revolution has survived with the backing of the revolutionary people and failure to account for leads to misconceptions about the legitimacy of the Cuban government. 
The book offers insights on how Cuban policy makers have adapted their policy goals without sacrificing ideological priorities and conditions and restrains shaping policymakers' motivation. 
Why Cuba Turned Away from Capitalism 
Developing any nation is a monumental task especially for a smaller nation with chronic lack of investments for centuries. Moreover, Cuban leaders faced additional hurdles imposed by the U.S. blockade and hostilities and ideological restrains. Cuban leaders and people viewed the U.S. imperialism as the central reason for the island's structural weakness. 
Cuban leaders looked for alternative to capitalist system to build a more just and equal society and support its development goals. Cuban planners believed that economic growth alone is not going to be beneficial for the national development but balanced growth directed towards development and self-reliance will be more desirable. 
After centuries of colonialism and capitalism, Cuban leaders viewed Soviet bloc and the USSR as an attractive alternative and moreover Russia was willing to offer economic aid and military assistance. Undre the Soviet Planning and Management System, Cuba began organizing its economy and redirecting investment, limited individual enterprises and prioritized interest of masses. The initial reorganization led to dramatic increase in economic growth and development in areas that were barely touched for centuries. 
However, economic growth began to fade after four years and Cuban planners struggled to find capital for additional development and growth. Despite the fading growth, common people for the first time began to have access to electricity, clean water and stable food supply rationed by the government.  Cubans for the first time began to experience better living conditions, rising literacy rates, and income provide by a state job. 
Cuban planners struggled to balance growth and development objective with limited access to capital and few exports. Cuba's export of sugar, nickel, and citrus also forced government to keep investing in mono-crop agriculture to pay for oil imports. This economic distortion only made domestic food situation precarious and the island nation faced persistent food crises. 
Cuban leaders were well aware of the country's vulnerabilities and energy and food insecurities. The crisis began in full swing after the collapse of the Soviet Union in the late eighties and early nineties. The government named it as Special Period where shortages, blackouts, and rising hardships were the norm. As Soviet Union began collapsing and one after the other republics declared independence, trade flows dried up and Russia could not keep up its commitment to supply oil. 
Cuba and Soviet Union Linkages 
Between 1989 and 1992, Russia's oil exports to Cuba fell 97% from 13 million tons to 1 million tons and the following year not a single drop of oil was delivered. Socialist government in Cuba ramped up spending and annual deficit shot up to 33% of GDP from 10% in 1990. Electricity blackouts and food shortages were common on the island for the next decade.  
Cuban government was forced to open up the economy and began welcoming foreign investment as the nation faced dire economic prospects. Remittances from Cuban diaspora began trickling in in the early nineties, after the government launched a dual currency system and permitted access to heavily taxed foreign goods at dollar shops. 
To the consternation of the planners and leaders, this welcome mat for the foreign capital entrenched inequality and broke the link between work and earnings. Income no longer depended on the quality or quantity of work. 
After five years of steady flows of foreign remittances, Cuban fiscal balance was restored and by 1999 Cuba's fiscal deficit dropped to 2.4% from 33% five years ago but Cuba's dependence on foreign investment only grew. For a proud nation looking to be self-reliant, this dependence was a hard pill to swallow. 
And to this day, foreign investment remains a charged issue in Cuba. The nation's planners have not forgotten days when the U.S. investors controlled 90% of telephone and electric services and 50% of public service railways and 40% of raw sugar production. 
But this stability was achieved not without other crises. Thousands of Cubans began leaving the nation culminating into the 'rafters' crisis of 1994. U.S. Coast Guards reported interdicting 30,000 Cubans on makeshift rafters looking to reach the U.S. shores. But most Cubans supported the government largely because of sharp escalation in government spending and social programs. Cuban leaders recognize that the survival of the revolution depends on the mass participation and political, military, and bureaucratic cadres could not become detached from the masses and their daily suffering. 
Cuba Venezuela Friendship 
Search for oil and foreign capital was on and the Cuban leaders looked at several alternatives and nearly after a decade of the Soviet Union collapse a long-term solution emerged.  After the election of Hugo Chavez as president of Venezuela in 1998, things began to change for better for Cuba. Chavez agreed to supply large amount of crude oil in exchange for much needed medical services in city slums and rural areas. Oil for Doctors program between Cuba and Venezuela was a huge success for both nations so much so that Cuba ramped up its export of medical services to more than fifty nations across the globe. 
At the same time Cuba welcomed tourists and began aggressive marketing of its sunny destinations and crystal blue water beaches. Canadians, Europeans, Russians, Mexicans, and South American began to arrive in droves. 
The opening of the economy came with Cuban priorities of its social policy: universality, equitable access, and government control. Unlike other Caribbean nations, Cuba retained control of its beachfront properties and resorts and used foreign exchange earnings to import oil and food and support its welfare programs. 
With new international partners and income, Cuba's fortunes began to change. Cuba's current account and balance of payments were positive in 2004 and 2005 and annual average economic growth increased to 8% between 2002 and 2007, peaking at 11.2% in 2005 and 12.1% in 2006. Moreover, Cuba's international trade with Latin America rose from 5% in 1989 to 35% in 2006. 
Cuba began to pour much of this foreign earning in improving its energy infrastructure and replaced old and inefficient power plants imported from former Soviet republics. The government also shifted from centralized power generation to a distributed power system with the help of Denmark based company and started investing in solar panel assembly plants. 
The government also made significant investments in medical research for tropical diseases and continued to train large number of students from Africa and Central America. 
International Medical Services Exports 
Since 2004, the export of professional services has been the main source of revenue for the Cuban government. Cuban medical and educational aid has played a crucial role in the post-2000 regional integration movement in Latin America and Caribbean helping to create more welfare focused national development strategies. 
By 2010, 14,000 Cuban physicians, 15,000 nurses, dentists, physical therapists, optometrists and technicians were providing medical care through 7,000 doctors' offices and 500 larger diagnostic clinics in Venezuela. In addition, over 200,000 Venezuelans had traveled to Cuba for eye surgeries. Cuba expanded Operacion Milagro to 34 countries and by 2019 4 million people had benefited. 
International Humanitarian Assistance 
Cuba's commitment to providing cheap medical services and combat tropical diseases is largely ignored by U.S. politicians and mainstream media.  After the outbreak of Ebola virus in 2014, in less than year, Cuba had trained 13,000 people to deal with the virus in 28 African countries and 68,000 in Latin America. 
Cuba has provided similar services after the Chernobyl nuclear powerplant accident. For more than two decades between 1990 and 2011, Cuba treated 26,000 people at a camp outside Havana including 22,000 children at an estimated cost of $350 million. 
In 2005, Cuba also sent 2,400 healthcare workers to Pakistan controlled Kashmir and treated 1.7 million people, nearly three quarters of all treated following the disaster. Despite Pakistan having close relationship with the U.S. and being a NATO member allied with wealthy Arab nations, not a single nation was prepared to help the Muslim nation facing a severe crisis. 
Cuba offered similar large scale medical assistance to Bolivia, Guatemala, Honduras, and Nicaragua after natural disasters struck these nations. 
Cuba's economic growth came to a sudden halt after the U.S. financial crisis in 2008. Foreign exchange began to dry up again and flow of remittances dropped sharply from the U.S. Food shortages reemerged on the island but electricity blackouts were less frequent that a decade ago thanks to the steady flow of oil from Venezuela. 
Cuba's Addiction to Dollars 
Despite the best efforts of Cuba, the island nation continues to rely on foreign capital for its growth. Struggling with poor agricultural productivity and scant manufacturing industry, Cuba has failed to wean itself from rising imports of food and energy. Cuba's import of 100,000 barrel of oil per day from Venezuela in exchange for medical services was in jeopardy after the collapse of oil price in 2014 and Venezuela suffered its own crisis of foreign exchange. 
Soon the Cuban healthcare services export agency began overtures to then Brazilian president Dilma Rousseff and established a medical services program in 2013 setting off a vociferous protest from Brazilian doctors. But rural doctor program was successful in providing healthcare to remote villages that no Brazilian doctor will serve. Over the next five years, 13,000 doctors provided healthcare services to 60 million poor Brazilians generating as much as $400 million in annual revenues to Cuban government. 
Programa Mais Medicos was shut down after the election of President Jair Bolsonaro who opposed the presence of foreign doctors in Brazil. Bolsonaro administration has not been able to replace Cuban doctors providing services in villages but the damage was done to Cuba's foreign exchange flow. 
U.S. Blockade 
As Cuba struggled to drive up its exports its weak economy took another hit with the strengthening of U.S. blockade. With the arrival of Trump administration in 2016, hostilities rose to the level since the time of President George W Bush a decade ago. Loosened travel restrictions during the previous years of Barack Obama presidency were tightened again, severe restrictions were imposed for foreign remittances to Cuba, diplomatic pressure was ramped in preventing Cubans from providing health, medical, educational, and security services to Venezuela. 
If this was not enough, the island economy suffered yet another setback after the corona virus pandemic brought international travel to a total halt in 2020. In two years to 2021, Cuban economy is expected to shrink by as much as 25% with the reemerging of shortages of food and other household goods.  
The Cuban government was forced to carry out a broad monetary overhaul including scrapping of its dual currency system effective Jan 1, 2021. The two-currency system had survived since 1994 but had also created new class of Cubans who relied on foreign remittances or served foreigners in tourism industry earning as much as ten to forty times domestic average salary.   
Why Cuba Survives and Not Thrives? 
Cuban government has managed to survive and keep the socialist revolution going through adaptation, reluctant pragmatism, and diversifying exports and international partners. Despite economic gains, the island nation of 11 million people remains heavily dependent on foreign capital to meets its import obligations, development objectives, domestic welfare program and international solidarity objectives. 
Cuban revolutionary leaders looked to chart an independent path of self-reliance and alternative economic model based on socialism, equality, and government control. However, today the island is more dependent on foreign capital and technology than ever before. Cuban leaders have managed to change with times and developed new foreign relationship and kept tight grip on power. Living standard on the island has improved in the last six decades but most families are still just getting by. 
Drug trafficking, a common problem in the region in Mexico, Central America and Caribbean, is largely nonexistent on the island. 
Revolutionary Cuba's biggest achievement has been in its ability to assert its national sovereignty and create an alternative model of development that places human welfare and environmental concerns at its core. 
Despite six decades of U.S. blockade, the island has achieved world-leading human development indicators, mobilizes the world's largest international humanitarian assistance, and contributed to medical science advances. Cuban government has managed to provide more to the common people of Cuba than the previous colonial masters and capitalist dominating the island. 
Cuba has done better than other nations in the region but has failed to realize its full potential and catch up with wealthy nations. Self-confident and more secure Cuba can thrive and not just survive if only the nation can manage to become more productive, eliminate its dependence on food and energy imports, and permit individual initiative. 
Cuba's success in human development largely through its commitment to preventive care and education access deserves a close examination by all nations looking to improve its masses. 
Other Books by Author