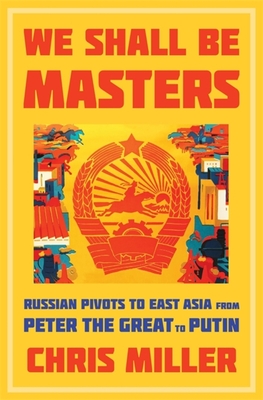 Harvard University Press
We Shall Be Masters: Russian Pivots to East Asia from Peter the Great to Putin
0

Rate this book

Key Metrics
Harvard University Press

Hardcover

9780674916449

-

-

History > Russia & the Former Soviet Union

English
$0
Available Copies:
0 Copies

Secure Transaction
Book Description
An illuminating account of Russia's attempts--and failures--to achieve great power status in Asia.
Since Peter the Great, Russian leaders have been lured by opportunity to the East. Under the tsars, Russians colonized Alaska, California, and Hawaii. The Trans-Siberian Railway linked Moscow to Vladivostok. And Stalin looked to Asia as a sphere of influence, hospitable to the spread of Soviet Communism. In Asia and the Pacific lay territory, markets, security, and glory.
But all these expansionist dreams amounted to little. In We Shall Be Masters, Chris Miller explores why, arguing that Russia's ambitions have repeatedly outstripped its capacity. With the core of the nation concentrated thousands of miles away in the European borderlands, Russia's would-be pioneers have always struggled to project power into Asia and to maintain public and elite interest in their far-flung pursuits. Even when the wider population professed faith in Asia's promise, few Russians were willing to pay the steep price. Among leaders, too, dreams of empire have always been tempered by fears of cost. Most of Russia's pivots to Asia have therefore been halfhearted and fleeting.
Today the Kremlin talks up the importance of strategic partnership with Xi Jinping's China, and Vladimir Putin's government is at pains to emphasize Russian activities across Eurasia. But while distance is covered with relative ease in the age of air travel and digital communication, the East remains far off in the ways that matter most. Miller finds that Russia's Asian dreams are still restrained by the country's firm rooting in Europe.
We Shall Be Masters: Russian Pivots to East Asia from Peter the Great to Putin
Author Bio
Chris Miller is Assistant Professor of International History at the Fletcher School at Tufts University. He is also Eurasia Research Director of the Foreign Policy Research Institute. He is author of The Struggle to Save the Soviet Economy and Putinomics: Power and Money in Resurgent Russia. His articles have been published in academic journals such as Soviet and Post Soviet Review and in popular publications such as The Wall Street Journal. He received his PhD and MA from Yale University and his AB in history from Harvard University.Can Russia Adapt Gas Exports to a Competitive Global Market?
more