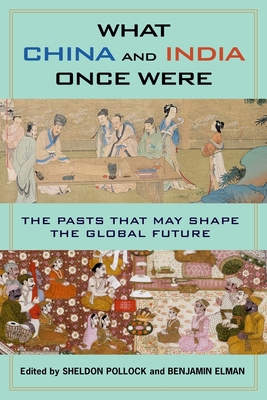 Columbia University Press
What China and India Once Were: The Pasts That May Shape the Global Future
0

Rate this book

Key Metrics
Columbia University Press

Hardcover

9780231184700

9.1 X 6.2 X 1 inches

1.45 pounds

History > Asia - China

English
$0
Available Copies:
0 Copies

Secure Transaction
Book Description
In the early years of the twenty-first century, China and India have emerged as world powers. In many respects, this is a return to the historical norm for both countries. For much of the early modern period, China and India were global leaders in a variety of ways. In this book, prominent scholars seek to understand modern China and India through an unprecedented comparative analysis of their long histories.
Using new sources, making new connections, and reexamining old assumptions, noted scholars of China and India pair up in each chapter to tackle major questions by combining their expertise. What China and India Once Were details how these two cultural giants arrived at their present state, considers their commonalities and divergences, assesses what is at stake in their comparison, and, more widely, questions whether European modernity provides useful contrasts. In jointly composed chapters, contributors explore ecology, polity, gender relations, religion, literature, science and technology, and more, to provide the richest comparative account ever offered of China and India before the modern era. What China and India Once Were establishes innovative frameworks for understanding the historical and cultural roots of East and South Asia in global context, drawing on the variety of Asian pasts to offer new ways of thinking about Asian presents.
What China and India Once Were: The Pasts That May Shape the Global Future
Author Bio
Benjamin Elman (Ph.D. University of Pennsylvania, 1980) is Professor of East Asian Studies and History with his primary department in East Asian Studies. 
His teaching and research fields include: 
1) Chinese intellectual and cultural history, 1000-1900; 
2) history of science in China, 1600-1930; 
3) history of education in late imperial China; 
4) Sino-Japanese cultural history, 1600-1850. 
His publications include: 
From Philosophy To Philology (1984, 1990, 2001); 
Classicism, Politics, and Kinship (1990); 
A Cultural History of Civil Examinations in Late Imperial China (2000). 
He has recently completed two book projects: On Their Own Terms: Science in China, 1550-1900 (2005), and A Cultural History of Modern Science in Late Imperial China (2006). 
A new work entitled Meritocracy and Civil Examinations in Late Imperial China (HUP) appeared in Fall 2013. 
I also edited several volumes from conferences held at Princeton under the auspices of PIIRS, EAP, and the Mellon Foundation on "Science in Republican China" (Brill 2014), "Languages, Literacies, and Vernaculars in Early Modern East Asia" (Brill 2015), and "Medical Classics and Medical Philology in East Asian, 1400-1900" (Brill 2016). 
During my leave, I visited archives in China, Taiwan, Japan, and South Korea.  
For my leave in AY17, I have continued working on a new project entitled "The Intellectual Impact of Late Imperial Chinese Classicism, Medicine, and Science in Tokugawa Japan, 1700-1850," under the auspices of summer research grants from my Mellon Foundation Career Service Award (2011-2017).
Source: Princeton University Department of East Asian Studies 
more