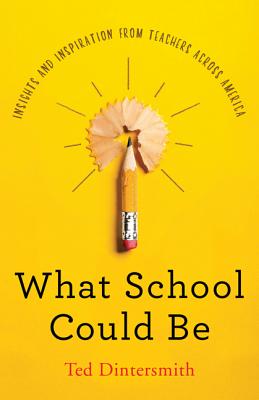 Princeton University Press
What School Could Be: Insights and Inspiration from Teachers Across America
0

Rate this book

Key Metrics
Princeton University Press

Hardcover

9780691180618

8.6 X 5.8 X 1.1 inches

1.05 pounds

Education > Educational Policy & Reform

English
$0
Estimated Arrival:
Aug 23 -Aug 25
Available Copies:
10+ Copies

Secure Transaction
Book Description
An inspiring account of teachers in ordinary circumstances doing extraordinary things, showing us how to transform education
What School Could Be offers an inspiring vision of what our teachers and students can accomplish if trusted with the challenge of developing the skills and ways of thinking needed to thrive in a world of dizzying technological change.
Innovation expert Ted Dintersmith took an unprecedented trip across America, visiting all fifty states in a single school year. He originally set out to raise awareness about the urgent need to reimagine education to prepare students for a world marked by innovation--but America's teachers one-upped him. All across the country, he met teachers in ordinary settings doing extraordinary things, creating innovative classrooms where children learn deeply and joyously as they gain purpose, agency, essential skillsets and mindsets, and real knowledge. Together, these new ways of teaching and learning offer a vision of what school could be--and a model for transforming schools throughout the United States and beyond. Better yet, teachers and parents don't have to wait for the revolution to come from above. They can readily implement small changes that can make a big difference.
America's clock is ticking. Our archaic model of education trains our kids for a world that no longer exists, and accelerating advances in technology are eliminating millions of jobs. But the trailblazing of many American educators gives us reasons for hope.
Capturing bold ideas from teachers and classrooms across America, What School Could Be provides a realistic and profoundly optimistic roadmap for creating cultures of innovation and real learning in all our schools.
What School Could Be: Insights and Inspiration from Teachers Across America
Author Bio
I have an unusual vantage point on the future of our children and our nation.  I spent my career in the world of innovation, and my track record there suggests I might know a bit about it.  And over the past decade,  I've immersed myself in the world of education.  I don't claim to have the expertise our classroom teachers have, and I respect their insights — celebrate them, actually.  But I have insights into the world our children will live in as adults, and the ways this future ought to affect the way we educate children.  I fight every day to do what I can to help give children a creative, uplifting education that prepares them to lead lives of purpose.  Make no mistake, the challenges are serious.  But so are the opportunities.
In 2018, I formed an education non-profit with Sir Ken Robinson.  Tragically, Sir Ken passed away in August, 2020.  But our efforts have carried forward, and developed into the remarkable online WhatSchoolCouldBe community for innovative educators, along with the powerful Innovation Playlist change model.  If you are a change agent seeking to elevate life and learning outcomes for the children in your world, this community offers unparalleled support, with compelling resources, like-minded and supportive educators, and an authentic sense of what is possible.  All for free to you, your school, and your district.
During the 2015-2016 school year, I went to all fifty states, visiting some 200 schools. I was stunned by the innovative classrooms and schools I found across the country. My new book, titled What School Could Be: Insights and Inspiration from Teachers Across America, brings these stories to readers.  I highlight the common elements of the powerful learning experiences I observed, and the ways leaders can change schools at scale by putting in place the conditions that let teachers and students thrive.  You can order the book here.
I organized and funded Most Likely to Succeed, a feature-length documentary on education that was directed by the remarkable Greg Whiteley. The film has been an official selection of thirty major film festivals, including Sundance.  To date, more than 10,000 communities in some 35 countries around the globe have screened the film, using it as a powerful resource to spark discussion and inspire change.  Here's how you or your school can view it.
Along with thought leader and friend Tony Wagner, I co-authored the book Most Likely to Succeed: Preparing Our Kids for the Innovation Era. 
Source: teddintersmith.com
more