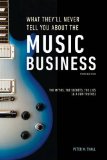 What They'll Never Tell You About the Music Business, Third Edition: The Complete Guide for Musicians, Songwriters, Producers, Managers, Industry Executives, Attorneys, and Accountants
Book Summary
The focal point of many aspiring artists and talented songwriters, the music industry sees just a tiny fraction of these creators reach financial success. In the pre-Internet world, recording labels and music studios would select the winners, but the structure of the industry is changing dramatically, both in financial and legal terms, as more and more people are creating and listening to music through various platforms and in different formats.
In the 3rd edition of his aptly named book, Peter M. Thall focuses on every aspect of the music business, highlighting the interests and potential benefits for all types of professionals and investors in this complicated universe of art creation and promotion. Just as the roles of songwriters, recording artists and publishers are changing, so is an outdated legal system trying to adapt to protecting the entrenched interests in a fast-changing industry. 
Key Topics
How has the music business transformed in the last fifteen years?
How unequal is the royalty pie division?
What is the effect of digital downloading on music pricing and royalties?
What to look out for in recording contracts?
Why have live concerts become so critical for recording artists?
How will the existence of a free market affect song writers?
Other Books by Author