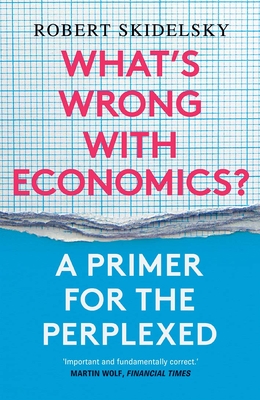 Yale University Press
What's Wrong with Economics?: A Primer for the Perplexed
0

Rate this book

Key Metrics
Yale University Press

Paperback

9780300257496

7.7 X 5 X 1 inches

0.4 pounds

Business & Economics > Economics - Theory

English
$0
Available Copies:
0 Copies

Secure Transaction
Book Description
A passionate and informed critique of mainstream economics from one of the leading economic thinkers of our time
This insightful book looks at how mainstream economics' quest for scientific certainty has led to a narrowing of vision and a convergence on an orthodoxy that is unhealthy for the field, not to mention the societies which base policy decisions on the advice of flawed economic models. Noted economic thinker Robert Skidelsky explains the circumstances that have brought about this constriction and proposes an approach to economics which includes philosophy, history, sociology, and politics.
Skidelsky's clearly written and compelling critique takes aim at the way that economics is taught in today's universities, where a focus on modelling leaves students ill-equipped to grapple with what is important and true about human life. He argues for a return to the ideal set out by John Maynard Keynes that the economist must be a mathematician, historian, statesman, [and] philosopher in equal measure.
What's Wrong with Economics?: A Primer for the Perplexed
Author Bio
Robert Skidelsky is emeritus professor of political economy at Warwick University. His three-volume biography of John Maynard Keynes (1983,1992, 2000) won five prizes and his book on the financial crisis – Keynes: The Return of the Master – was published in September 2010. He was made a member of the House of Lords in 1991 (he sits on the cross-benches) and elected a fellow of the British Academy in 1994. How Much is Enough? The Love of Money and the Case for the Good Life, co-written with his son Edward, was published in July 2012.
He is also the author of Britain in the 20th Century: A Success? (Vintage, 2014), editor of The Essential Keynes (Penguin Classics, 2015), and co-editor of Who Runs the Economy? (Palgrave, 2016) and Austerity Vs Stimulus (Palgrave, 2017).
He has recently written and filmed a series of lectures on the History and Philosophy of Economics which will be made available as an open online course in partnership with the Institute for New Economics Thinking.
His latest book is Money and Government, which will be published by Allen Lane in September 2018. He is now working on a book about automation and the future of work.
Source: robertskidelsky.com
more