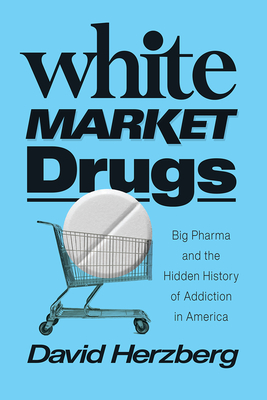 University of Chicago Press
White Market Drugs: Big Pharma and the Hidden History of Addiction in America
0

Rate this book

Key Metrics
University of Chicago Press

Hardcover

9780226731889

9.1 X 6.2 X 1.2 inches

1.4 pounds

Medical > Pharmacology

English
$0
Available Copies:
0 Copies

Secure Transaction
Book Description
The contemporary opioid crisis is widely seen as new and unprecedented. Not so. It is merely the latest in a long series of drug crises stretching back over a century. In
White Market Drugs,
David Herzberg explores these crises and the drugs that fueled them, from Bayer's Heroin to Purdue's OxyContin and all the drugs in between: barbiturate goof balls, amphetamine thrill pills, the love drug Quaalude, and more. As Herzberg argues, the vast majority of American experiences with drugs and addiction have taken place within what he calls white markets, where legal drugs called medicines are sold to a largely white clientele.
These markets are widely acknowledged but no one has explained how they became so central to the medical system in a nation famous for its drug wars--until now. Drawing from federal, state, industry, and medical archives alongside a wealth of published sources, Herzberg re-connects America's divided drug history, telling the whole story for the first time. He reveals that the driving question for policymakers has never been how to prohibit the use of addictive drugs, but how to ensure their availability in medical contexts, where profitability often outweighs public safety. Access to white markets was thus a double-edged sword for socially privileged consumers, even as communities of color faced exclusion and punitive drug prohibition. To counter this no-win setup, Herzberg advocates for a consumer protection approach that robustly regulates all drug markets to minimize risks while maintaining safe, reliable access (and treatment) for people with addiction.
Accomplishing this requires rethinking a drug/medicine divide born a century ago that, unlike most policies of that racially segregated era, has somehow survived relatively unscathed into the twenty-first century.
By showing how the twenty-first-century opioid crisis is only the most recent in a long history of similar crises of addiction to pharmaceuticals, Herzberg forces us to rethink our most basic ideas about drug policy and addiction itself--ideas that have been failing us catastrophically for over a century.
White Market Drugs: Big Pharma and the Hidden History of Addiction in America
Author Bio
I am a historian of drugs whose research focuses on the legal kind—psychoactive pharmaceuticals. I explore the nature and trajectory of drug commerce, drug use, and drug policy in American racial capitalism.
My work has appeared in numerous scholarly and medical journals, in popular media, and in two books: White Market Drugs: Big Pharma and the Hidden History of Addiction in America (University of Chicago Press, 2020) and Happy Pills in America: From Miltown to Prozac (Johns Hopkins University Press, 2009). I am also co-editor of Social History of Alcohol and Drugs: An Interdisciplinary Journal, the official organ of the Alcohol and Drug History Society.
Research Projects 
I am finishing work on two projects:  a book co-authored with Helena Hansen and Jules Netherland on how the politics of whiteness has shaped the history of opioids, opioid addiction, and drug policy in the U.S.; and a volume co-edited with Nils Kessel and Joseph Gabriel exploring alternatives to the drug-medicine divide as a frame for the history of psychoactive substances. I am also beginning research for a new project on the 1971 Convention on Psychotropic Substances, which broadened international controls to cover synthetic drugs such as amphetamine, barbiturates, tranquilizers, and LSD.  
The Convention offers an opportunity to explore how the quest for drug control has also, of necessity, been a quest to define medicine and therapy, framed and influenced but never entirely defined by powerful corporations and the political hierarchies of race, gender, class, and nation.
Education
 
PhD, University of Wisconsin-Madison, 2005
MA, University of Wisconsin-Madison, 1997
BA, Wesleyan University, 1993
Source: University of Buffalo
more
Videos