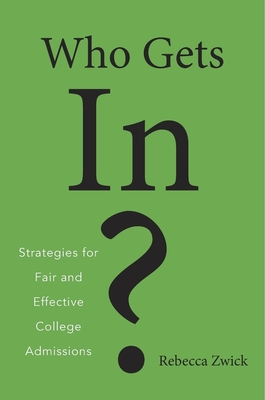 Harvard University Press
Who Gets In?
0

Rate this book

Key Metrics
Harvard University Press

Hardcover

9780674971912

9.3 X 6.3 X 1.1 inches

1.2 pounds

Education > Higher

English
$0
Estimated Arrival:
Dec 12 -Dec 14
Available Copies:
10+ Copies

Secure Transaction
Book Description
When it comes to the hotly disputed topic of college admissions, the one thing everyone agrees about is that it's unfair. But there is little agreement on what a fair process would be.
Rebecca Zwick takes a hard look at the high-stakes competition of U.S. college admissions today. Illustrating her points using analyses of survey data from applicants to the nation's top colleges and universities, she assesses the goals of different admissions systems and the fairness of criteria--from high school grades and standardized test scores to race, socioeconomic status, and students' academic aspirations. The demographic makeup of the class and the educational outcomes of its students can vary substantially, depending upon how an institution approaches its task. Who Gets In? considers the merits and flaws of competing approaches and demonstrates that admissions policies can sometimes fail to produce the desired results. For example, some nontraditional selection methods can hurt more than help the students they are intended to benefit.
As Zwick shows, there is no objective way to evaluate admissions systems--no universal definition of student merit or blanket entitlement to attend college. Some schools may hope to attract well-rounded students, while others will focus on specific academic strengths. What matters most is that a school's admissions policy reflects its particular educational philosophy. Colleges should be free to include socioeconomic and racial preferences among their admissions criteria, Zwick contends, but they should strive for transparency about the factors they use to evaluate applicants.
Who Gets In?
Author Bio
I've spent 20 years (in two separate stints) as a researcher at Educational Testing Service, where I now hold the title of Distinguished Presidential Appointee.  I started at ETS after earning my doctorate in Quantitative Methods in Education at the University of California, Berkeley and completing a postdoctoral fellowship at the  Psychometric Laboratory at the University of North Carolina at Chapel Hill.  
In between my two ETS gigs, I was a professor at the Gevirtz Graduate School of Education at the University of California, Santa Barbara, where I taught classes in measurement, statistics, and educational testing.   But my career in education actually began long before I earned a Ph.D.  During the 1970s, I received my teacher certification and worked in teaching and counseling positions with children, adolescents, and adults.  
These experiences helped to broaden my perspective on the role of tests and measurement. My recent research at ETS has focused on test validity and fairness.  I continue to conduct research on the college admissions process, which is the topic of my 2017 book, Who Gets In? Strategies for Fair and Effective College Admissions.  I recently served as the President of the National Council on Measurement in Education (2018-2019) and as a member of the NCME Executive Committee (2017-2020). 
Source: rebeccazwick.com
more