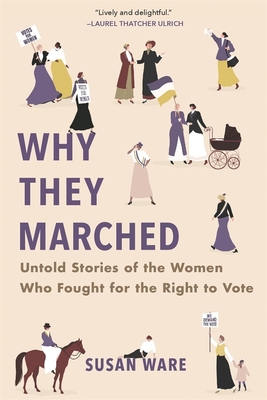 Belknap Press
Why They Marched: Untold Stories of the Women Who Fought for the Right to Vote
0

Rate this book

Key Metrics
Belknap Press

Paperback

9780674248298

8.2 X 5.5 X 1.1 inches

0.66 pounds

History > Women

English
$0
Estimated Arrival:
Dec 7 -Dec 9
Available Copies:
10+ Copies

Secure Transaction
Book Description
Lively and delightful...zooms in on the faces in the crowd to help us understand both the depth and the diversity of the women's suffrage movement. Some women went to jail. Others climbed mountains. Visual artists, dancers, and journalists all played a part...Far from perfect, they used their own abilities, defects, and opportunities to build a movement that still resonates today.
--Laurel Thatcher Ulrich, author of Well-Behaved Women Seldom Make History
An intimate account of the unheralded activism that won women the right to vote, and an opportunity to celebrate a truly diverse cohort of first-wave feminist changemakers.
--Ms.
Demonstrates the steady advance of women's suffrage while also complicating the standard portrait of it.
--New Yorker
The story of how American women won the right to vote is usually told through the lives of a few iconic leaders. But movements for social change are rarely so tidy or top-heavy. Why They Marched profiles nineteen women--some famous, many unknown--who worked tirelessly out of the spotlight protesting, petitioning, and insisting on their right to full citizenship.
Ware shows how women who never thought they would participate in politics took actions that were risky, sometimes quirky, and often joyous to fight for a cause that mobilized three generations of activists.
The dramatic experiences of these pioneering feminists--including an African American journalist, a mountain-climbing physician, a southern novelist, a polygamous Mormon wife, and two sisters on opposite sides of the suffrage divide--resonate powerfully today, as a new generation of women demands to be heard.
Why They Marched: Untold Stories of the Women Who Fought for the Right to Vote
Author Bio
Susan Ware is an independent scholar who specializes in twentieth century U.S. history, women's history, and biography. She graduated from Wellesley College in 1972 and received her Ph.D. from Harvard University in 1978, where she studied under Frank Friedel and Barbara Miller Solomon. While at Harvard, she began her lifelong association with the Schlesinger Library on the History of Women in America at Radcliffe. 
In addition to consulting its resources for many of her research projects, she has served on the library's advisory board and is currently a member of the Schlesinger Library Council. The library provided a home for the final volume of Notable American Women: Completing the Twentieth Century (2004), which she edited. In 2014-2015 she served as interim faculty director of the library and is currently involved in planning for the library's 75th anniversary as well as the upcoming suffrage centennial in 2020. Since 2012 she has served as general editor of the biographical dictionary American National Biography.
Ware has published widely in the field of 20th century American women's history. Her books include Beyond Suffrage: Women in the New Deal (1981); Holding Their Own: American Women in the 1930s (1982); and, most recently, American Women's History: A Very Short Introduction (2015). She has written biographies of New Deal politician Molly Dewson, aviator Amelia Earhart, radio pioneer Mary Margaret McBride, and tennis great Billie Jean King, as well as a collective biography, Letter to the World: Seven Women Who Shaped the American Century (1998). 
She was a coauthor of the first five editions of the textbook America's History (1987-2003) and also produced two documentary histories, Modern American Women, and Title IX: A Brief History with Documents. She was also the editor of Forgotten Heroes: Inspiring American Portraits From Our Leading Historians (1998). Her current project focuses on the history of the woman suffrage movement.
Ware has taught at Harvard University, the University of New Hampshire, and Tufts University, but her primary institutional loyalty is to New York University, where she taught as a member of the history department from 1986-1995. Among her graduate students were Lola Van Wagenen and Melanie Gustafson. She has also taught several courses for the Graduate Consortium of Women's Studies at MIT.
In addition to her research, teaching, and editing, Ware has been involved in a variety of professional organizations, including Clio Visualizing History since its founding in 1995. She is active with the Women's Sports Foundation, the Massachusetts Historical Society, the Society of American Historians, the Roosevelt Institute, and the American Repertory Theater at Harvard, where she serves on the board of advisors. 
She has been a historical consultant to numerous documentary films and has served as a Distinguished Lecturer for the Organization of American Historians since 2002. She divides her time between Cambridge, Massachusetts (right around the corner from the Schlesinger Library and the ART) and Hopkinton, New Hampshire. 
Source: Clio Visualizing History
more
Videos