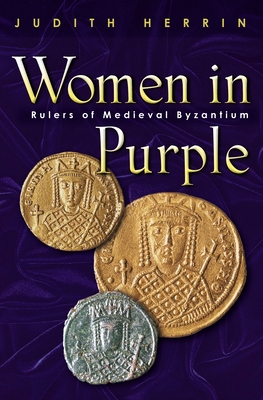 Princeton University Press
Women in Purple: Rulers of Medieval Byzantium
0

Rate this book

Key Metrics
Princeton University Press

Paperback

9780691117805

8.97 X 5.84 X 0.94 inches

1.03 pounds

History > Europe - Medieval

English
$0
Available Copies:
0 Copies

Secure Transaction
Book Description
In the eighth and ninth centuries, three Byzantine empresses--Irene, Euphrosyne, and Theodora--changed history. Their combined efforts restored the veneration of icons, saving Byzantium from a purely symbolic and decorative art and ensuring its influence for centuries to come.
In this exhilarating and highly entertaining account, one of the foremost historians of the medieval period tells the story of how these fascinating women exercised imperial sovereignty with consummate skill and sometimes ruthless tactics. Though they gained access to the all-pervasive authority of the Byzantine ruling dynasty through marriage, all three continued to wear the imperial purple and wield tremendous power as widows. From Constantinople, their own Queen City, the empresses undermined competitors and governed like men. They conducted diplomacy across the known world, negotiating with the likes of Charlemagne, Roman popes, and the great Arab caliph Harun al Rashid.
Vehemently rejecting the ban on holy images instituted by their male relatives, Irene and Theodora used craft and power to reverse the official iconoclasm and restore icons to their place of adoration in the Eastern Church. In so doing, they profoundly altered the course of history. The art--and not only the art--of Byzantium, of Islam, and of the West would have been very different without them.
As Judith Herrin traces the surviving evidence, she evokes the complex and deeply religious world of Constantinople in the aftermath of Arab conquest. She brings to life its monuments and palaces, its court ceremonies and rituals, the role of eunuchs (the third sex), bride shows, and the influence of warring monks and patriarchs. Based on new research and written for a general audience, Women in Purple reshapes our understanding of an empire that lasted a thousand years and splashes fresh light on the relationship of women to power.
Women in Purple: Rulers of Medieval Byzantium
Author Bio
Judith Herrin is professor emeritus in the Department of Classics at King's College London. Her books include Ravenna: Capital of Empire, Crucible of Europe; Byzantium: The Surprising Life of a Medieval Empire; Margins and Metropolis: Authority across the Byzantine Empire; and Unrivalled Influence: Women and Empire in Byzantium 
Herrin worked as an archaeologist with the British School at Athens and on the site of Kalenderhane Mosque in Istanbul as a Dumbarton Oaks fellow.[5] Between 1991 and 1995, she was Stanley J. Seeger Professor in Byzantine History, Princeton University.[6] She was appointed Professor of Late Antique and Byzantine Studies at King's College London (KCL) in 1995, and was Head of the Center for Hellenic Studies at KCL.[4] She retired from the post in 2008, becoming Professor Emeritus.[4] She was president of the International Congress of Byzantine Studies in 2011
Research interests
 
Byzantine archaeology and other fields including women in Byzantium and Byzantium in relation to Islam and the West.
Source: Princeton University Press and King's College, London 
more